Air Force & Navy Search for New High-Tech Fighter Aircraft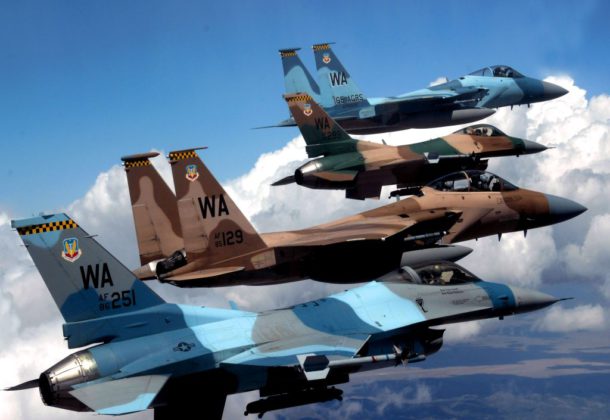 Morning Coffee is a robust blend of links to news around the internet concerning the Naval Air Station Patuxent River

economic community. The opinions expressed here do not reflect opinions of the Leader's owners or staff.
Both the Air Force and Navy are developing a new high-tech fighter aircraft, reports Defense News, but clamped down security provides few details. Air Force Chief of Staff Gen. Dave Goldfein says the replacement may not be a single platform, it maybe two or three different kinds of capabilities and systems. The Navy is looking to see if there are already systems in the fleet that can take on the mission requirements of a future fighter, or if there are cheaper ways to do the same thing.
The Pentagon has reorganized its leadership structure to emphasize quantum science, artificial intelligence, and directed energy to keep up with emerging technologies that will shape the next generation of war, reports Defense News. The new effort is a major restructuring for the two Pentagon offices that determine how the Department of Defense buys and develops weapon systems. The restructuring includes big changes coming to DoD's Manufacturing and Industrial Base Policy office. The manufacturing aspect, including the Department of Defense Manufacturing Technologies (ManTech) program, is being split off and heading to the Research & Engineering side, while the Office of Small Business Policy is being folded into the new MIBP, reports Defense News.
President Donald Trump has approved the State Department's implementation plan for the administration's "Buy American" push for boosting weapons exports that emphasizes the US economy, reports Defense News.
Reuter reports the US-driven trade war has become the biggest "confidence killer" for the global economy. China's foreign ministry says the whole world will fight back if the United States continued to be "willful." Earlier this month the US and China slapped tariffs on $34 billion of each other's imports in an escalating trade tussle that has roiled financial markets. Trump has threatened further tariffs unless Beijing agrees to change its intellectual property practices and high-technology industrial subsidy plans.
Claims that the US sent defective shoulder-fired Javelin missiles to Ukraine are "outrageous," said Ambassador Tina Kaidanow, the acting assistant secretary for political-military affairs. The Washington Examiner reports a Russian media outlet reported the missiles were defective and not in working order. The Trump administration reversed earlier policy against supplying lethal weapons to Ukraine. In a transcript responding to the claims, the ambassador said, "Why would we do such a thing? And so that is purely fake news, if you want to call it that, and propaganda of the worst sort. And I can only tell you that, again, that's just outrageous, frankly, and certainly not the case."
The Department of Homeland Security Science and Technology Directorate and the Transportation Security Administration announced eight winners who received a combined $1.5 million in its Passenger Screening Algorithm Challenge on July 9, reports Federal Times. The challenge was designed to look beyond typical sources to garner algorithms that would help improve the speed and efficiency of airport screening processes.
The Marine Corps wants a large, powerful autonomous drone delivery system capable of carrying as much as 500 pounds to Marines at least 10 km away, reports Marine Times. A recent request for information posting on the government website FBO.gov by the Marine Corps' Program Executive Office for Unmanned Aviation and Strike Weapons wants the drone delivery vehicle to weigh no more than 1,320 pounds, fit in a small vehicle, and operate day/night in a variety of environmental conditions.
The Royal Netherlands Air Force has made a deal with Boeing for sustainment and spare parts to service AH-64 Apache and CH-47 Chinook helicopters, reports Defense News. The performance-based logistics contract will provide maintenance, repair, and overhaul services to the fleet of Apaches and Chinooks. The company has not disclosed the total value of the agreement.
DoD's school system's policies dealing with serious student misconduct including sexual assault and sexual harassment are under scrutiny by the DoD Inspector General, according to an announcement from the IG. The evaluation is required in the Senate Armed Services Committee's report that accompanies its version of the FY19 NDAA, reports Military Times.
Video here of what it looks like when a MK-48 torpedo breaks your keel, as reported by Defense News.
Connecticut, Maryland, New Jersey, and New York have sued the federal government, claiming that the new $10,000 limit on state and local tax (SALT) deductions is an "unconstitutional assault on states' sovereign choices," report Fiscal Times. The suit, which names Treasury Secretary Steven Mnuchin, acting IRS commissioner David Kautter and the United States of America among its defendants, was filed in the Southern District of New York.
Contracts:
Accenture Federal Services LLC, Arlington, Virginia, was awarded an $18,383,343 modification (P00011) to contract W52P1J-17-C-0022 for the development, implementation, and sustainment support of the General Fund Enterprise Business System – Sensitive Activities. Work will be performed in Arlington, Virginia, with an estimated completion date of May 31, 2021. Fiscal 2016, 2017 and 2018 research, development, test and evaluation; and other procurement, Army funds in the combined amount of $1,260,951 were obligated at the time of the award. US Army Contracting Command, Rock Island Arsenal, Illinois, is the contracting activity.
Northrop Grumman Systems Corp., McLean, Virginia, was awarded a $16,634,000 modification (0006) to contract W91RUS-14-D-0002 for non-personal Information Technology support services for the US Army Regional Cyber Center-Europe. Work will be performed in Wiesbaden Erbenheim, Germany, with an estimated completion date of July 18, 2019. Fiscal 2018 operations and maintenance Army funds in the amount of $2,000,000 were obligated at the time of the award. US Army Contracting Command, Aberdeen Proving Ground, Maryland, is the contracting activity.