Advanced Super Hornet Demo Debuts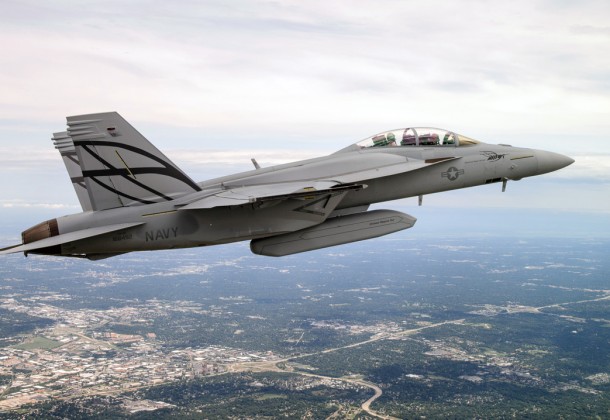 Morning Coffee is a robust blend of links to news around the internet concerning the Naval Air Station Patuxent River economic community. The opinions expressed here do not necessarily reflect those o

f the Leader's owners or staff.
Boeing posts video of the debut of the Advanced Super Hornet. The aircraft will carry out 20 test flights in St. Louis and at the Naval Air Station: Patuxent River, Md. With these jets, the Navy nears completion of its planned purchase from Boeing of more than 600 F/A-18 Super Hornets and electronic attack EA-18G Growlers, reports Defense Daily.
The Air Force, the Army and the Defense Information Systems Agency are entering an agreement for a joint information environment designed to save $1 billion in future costs, says Defense.gov. In another cross-branch conversation not designed for a collaborative outcome, the Army and Navy are still discussing which branch will take over operations of the pond at the Aberdeen Proving Grounds in Maryland where two Navy divers and a civilian have drowned this year. The pond is used to shock-test vessels.
The US is seeking a work around Russia's UN veto power to engage an international response against the Syrian government for its use of chemical weapons on its citizens, reports CNN Security Clearance. In DC, Republicans are split in their response to military force in Syria, reports Defense News. "The intervention of America will be a disaster for the region," The Hill quotes Iran's Supreme Leader Ayatollah Ali Khamenei's warning to the US.
Cost cutting may reduce testing of Aegis, reports Aviation Week.
The Russian avionics firm Transas showcased a new UAV for the civil market at the Moscow air show. The company is developing broadcast technology to reduce collision potential with a locale good for testing, says FlightGlobal, the empty, arctic airspace eliminates a lot of safety concerns.
Nations covet Facebook data more than Twitter, concludes NextGov. The US asks both for more than anybody else.