Admirals Talk Future of Naval Aviation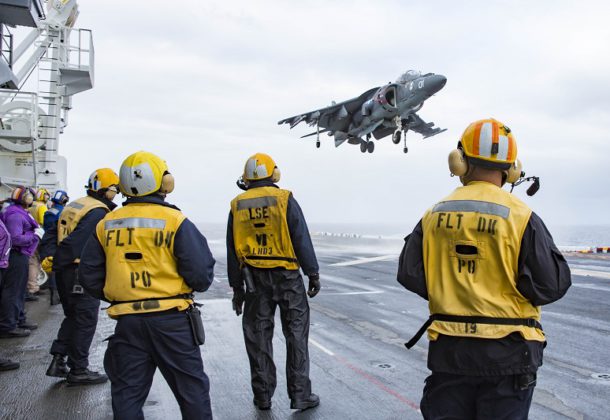 Morning Coffee is a robust blend of links to news around the internet concerning the Naval Air Station Patuxent River

economic community. The opinions expressed here do not reflect opinions of the Leader's owners or staff.
Navy admirals at a Pensacola symposium shared thoughts on the future of naval aviation. VADM Paul Grosklags said he and other Navy leaders are focused on changing the way the Navy procures and maintains its aircraft, reports Pensacola News Journal. "We haven't changed the way we sustain our aircraft for the last 30 years, we have let technology and commercial best practices pass us by," VADM Grosklags said.
The Navy is looking into whether it might be feasible to install a so-called "hard-kill" self-defense system to physically shoot down incoming missiles that could go onto various transport, tanker, and other combat support aircraft, or equip an entirely new unmanned escort platform, reports The Drive.
China has rapidly accelerated its stealth program over the past decade, culminating in a handful of next-generation aircraft that could eventually challenge the US for aerial dominance. Here's what Task & Purpose knows about that country's two potential stealth aircraft based on information that has trickled out in recent weeks.
US fighter jets intercepted two Russian "Bear" bombers in international airspace off western Alaska on Saturday, reports Channel NewsAsia.
C4ISRNET reports the program executive officer for the US Army's Enterprise Information Systems outlined her vision of the future of network capabilities across the Army and DoD and the challenges in achieving stronger network connectivity. "When you talk about connectivity across the Department of Defense, I really think in many cases today it's the disconnectivity," Cherie Smith said during a C4ISRNET conference. "We struggle, constantly, to figure out how to provide that connectiveness even within our own PEO."
A new 2.75-inch rocket launcher designed specifically for combat vehicles made its Middle East debut at the Special Operations Exposition last week, reports Defense News.
When the destroyer Jack Lucas joins the US Navy's fleet in 2024, it will look similar to the 73 Arleigh Burke-class destroyers that preceded it. But it's going to be a very different, more capable killer than its predecessors, reports Defense News.
The recent C-130 crash in Georgia that killed nine Air National Guard members may have been caused by one or both engines on the aircraft's left wing failing shortly after takeoff, reports Military.com.
President Donald Trump incorrectly claimed that his administration gave service members their first pay raise in 10 years, a moment he was "proud" to oversee, reports Army Times. In fact, troops have seen a pay raise of at least 1 percent every year for more than 30 years. The 2018 military pay raise — which was 2.4 percent — was the largest for the armed forces in eight years.
Using the Da Vinci XI Robot Surgical System, surgical teams from the US Navy and Sri Lanka removed the gall bladder of a Sri Lankan citizen, marking the first time the robot has been used on a living patient onboard a ship from any country, reports Navy Times.
Lockheed Martin CEO Marillyn Hewson recently spoke in Dubai about engaging young people to shape innovative solutions for global challenges, reports Saudi Gazette. Following a discussion on the opportunities and challenges faced by young professionals in the aerospace industry, Hewson shared insights on why science, technology, engineering, and mathematics skills are essential for the future.
For the 29th consecutive year, NAS Pax River has received the Tree City USA Award, which is presented to communities that meet sound urban forestry management standards, reports The Tester.
Retired U.S. Army Lt. Col. Stephen Toumajan got a big promotion after he went to work for the United Arab Emirates, where he now heads the nation's Joint Aviation Command and National Search and Rescue Center as a major general, reports Army Times.
Contracts:
Airborne Tactical Advantage Co. LLC, Newport News, Virginia, is awarded $54,466,888 for modification P00016 to a previously awarded firm-fixed-price, cost-reimbursement, indefinite-delivery/indefinite-quantity contract (N00019-15-D-0026) to exercise an option in support of the Contracted Air Services (CAS) program. The CAS Program provides contractor owned and operated Type III high subsonic and Type IV supersonic aircraft to Navy Fleet customers for a wide variety of airborne threat simulation capabilities. Work will be performed in Newport News, Virginia (44 percent); Point Mugu, California (37 percent); and various locations outside the continental US (19 percent), and is expected to be completed in May 2019. Fiscal 2018 operations and maintenance (Navy) funds in the amount of $6,127,793 will be obligated at time of award, all of which will expire at the end of the current fiscal year. The Naval Air Warfare Center, Aircraft Division, Patuxent River, Maryland, is the contracting activity.
Johns Hopkins University Applied Physics Laboratory, Laurel, Maryland, has been awarded a $93,000,000 ceiling cost-plus-fixed-fee, indefinite-delivery/indefinite-quantity contract for space systems engineering. This contract provides for systems engineering, technical support tasks, and specialized research and development. Work will be performed in Laurel, Maryland, and is expected to be complete by May 2025. This award is the result of a sole-source acquisition. Fiscal 2018 research and development funds in the amount of $7,500 are being obligated at the time of award. Space and Missile Systems Center, Space Superiority Systems Directorate, Los Angeles Air Force Base, California, is the contracting activity (FA8819-18-D-0009).
G&G Steel, Russellville, Alabama (W912QR-18-D-0022); Kentucky Machine & Tool Co., Louisville, Kentucky (W912QR-18-D-0023); Chesapeake Machining and Fabrication Inc., Baltimore, Maryland (W912QR-18-D-0024); and C&C Fabrication and Piping LLC, Mount Sterling, Kentucky (W912QR-18-D-0025), will compete for each order of the $10,000,000 firm-fixed-price contract to provide varying types of fabrication parts and refurbishment services. Bids were solicited via the Internet with six received. Work locations and funding will be determined with each order, with an estimated completion date of May 9, 2023. US Army Corps of Engineers, Louisville, Kentucky, is the contracting activity.