Get Tickets Now for Bluegrass for Hospice '17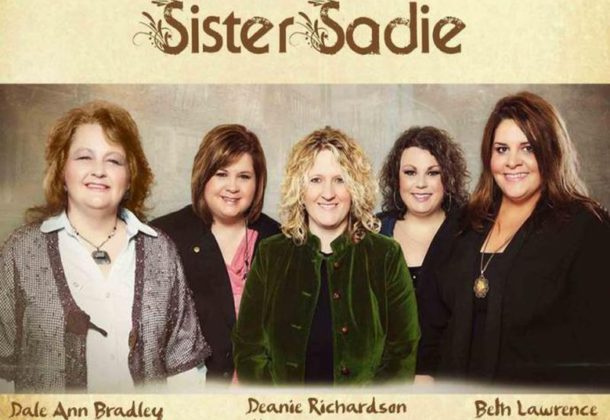 Sister Sadie Bluegrass is among headliners at the Oct. 28 Bluegrass for Hospice 2017 at Flat Iron Farm in Great Mills, MD.
There's still time to reserve a vendor spot and to grab early-reserve ticket prices for Bluegrass for Hospice-2017 Bluegrass Music and Food Drive.
The concert is Saturday, Oct. 28, 2017, held at its traditional venue, Flat Iron Farm in Great Mills, Maryland from noon until 8 pm. Bluegrass performers will provide music all day. There will be door prizes, a silent auction, and a wealth of vendors.
Interested vendors may request a vendor application by calling 301-737-3004 or downloading one here. The deadline for requesting a space is Oct. 20, 2017.
The annual Bluegrass for Hospice benefits The Hospice House of Hospice of St. Mary's and is presented annually by Jay and Michelle Armsworthy, in the great barn at Great Mills Trading Post owner Bubby Knott's Flat Iron Farm, located on Highway to Heaven Lane off Flat Iron Road in Great Mills, MD.
The event is held inside and is handicap accessible. Bring lawn chairs. There are outdoor bathroom facilities. In addition to the full day of music — bands listed below — there will be a $500 Raffle; 50/50 raffles; Silent Auctions; door prizes, and other vendors. Food is provided for sale by Lynn's Catering. The event is BYOB.
The donation of non-perishable food items will be appreciated. The donations will go to the Helping Hands Food Pantry.
Starting at noon Oct. 28, the family event will feature a full day of fun with music, raffles, silent auction, and door prizes.  Among the acts to perform will be:
Sister Sadie (An all-female band by popular demand featuring Dale Ann Bradley)
The Virginia Ramblers (Traditional Bluegrass)
The Martin Brothers
The Patuxent Brothers
15 Strings
The Dixie Ramblers
Recycled Bluegrass
Bubby Abell & Spoon Creek
Bands are subject to change.
Tickets: $25.00 in advance/$30.00 at the gate. Deadline for advanced tickets is October 15, 2017. You can purchase tickets online or by mail. To order by credit card, through Brown Paper Tickets at Bluegrass for Hospice. For more information, phone: 301 737-3004 or visit the the Bluegrass for Hospice website.
Out of town guests, staying at the LaQuinta Inns & Suites, can mention Bluegrass for Hospice for a special rate. LaQuinta Inns & Suites are located at 22769 Three Notch Rd, California, MD 20619, (301) 862-4100.
To order by mail, send a check or money order made payable to: "HOSPICE OF ST. MARY'S." Mail to: P.O. Box 741, California, MD 20619,. Please include a self-address stamped envelope.
Last year's Bluegrass for Hospice in October, hosted at Flat Iron Farm raised $38,298.91. In the eight years the bluegrass concert has been in existence, 2016 was the best yet, Mr. Armsworthy said. The event has raised $192,000 in total for Hospice of St. Mary's.
Some of the sponsors for the 2017 event include Karen and John Garner, John Felicitas and Christine Wray, Jan Barnes, Imagine Technology & Management, La Quinta Inn & Suites, Bob Taylor Engineering, McGrew Equipment Co., Chief's Bar, Danny Miedzinski & Son LLC, ABC Liquors and Lounge, Hollyrock Customs, Proflex Physical Therapy, Winters Heating & Cooling, Patuxent Dental, MetroCast, Indian Bridge Kennels & Suites Inc., Luke M. Morgan DDS & Associates, Dugan, McKissick, & Longmore LLC, Hancock Refrigeration Co. Inc., Three Mules Welding Supply, Quality Built Homes, Guy Distributing Co. Inc., Stanley and Joanie Williams, Jahn Corporation, IAMAW-William W. Winpisinger Educational Technology Center (Placid Harbor), A&T Enterprises, John R. Bean Construction & Home Improvement 'N' Stuff, W.M. Davis Inc., Eagle Systems, Community Bank of the Chesapeake, Cedar Point Federal Credit Union, The Dorsey Law Firm, Taylor Gas Company, Turtle Banjo Company, A&G Electric LLC, Ernie and Anne Bell, Salsa's Mexican Cafe, Donna's Tax Service, Avian LLC, St. Mary's Nursing & Rehabilitation Center, Askey, Askey & Associates CPA LLC, C&C Plumbing & Septic Inc., Stephen D. Mattingly Insurance, State Farm Insurance and agent Philip C. Riehl, Southern MD Women's Healthcare, J.F. Taylor Inc., Take It Easy Campground, Dean Lumber & Supply Co., Charles C. Reel MD, and Bell Boys Bus Service.
For more information about Great Mills Trading Post, visit its Leaders Member Page.