49 CSM Scholarship Recipients Recognized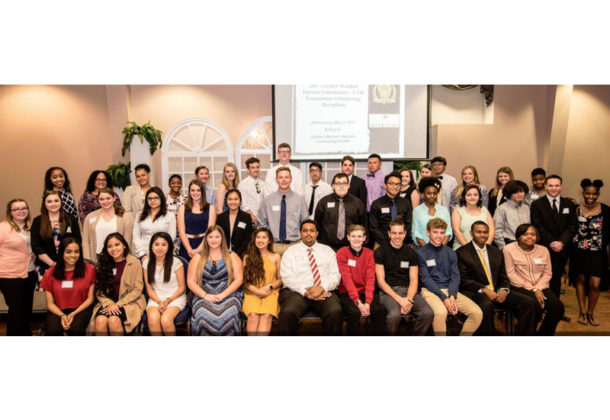 The Greater Waldorf Jaycees Foundation and College of Southern Maryland Foundation have teamed up once again to offer a financial boost to 49 current and future students at CSM who are scholarship recipients.
Close to $80,000 in scholarship money was awarded during a scholarship awards reception at the Jaycees hall in Waldorf on May 3. This program is now in its 17th year, and in that time the Greater Waldorf Jaycees Foundation has awarded 453 Charles County students with close to $613,000, and the CSM Foundation has matched that contribution dollar for dollar.
"We work very hard at staying affordable," said CSM President Dr. Brad Gottfried. "But for many, college is a difficult expense to manage. That's why our CSM Foundation works very hard to raise money for scholarships and partnership programs like this one with the Greater Waldorf Jaycees Foundation."
Dr. Gottfried spoke about a recent report that stated a record amount of debt is being shouldered by college students in 2017. Those "who borrowed to finance their degrees will leave college with a record level of debt — $37,172 per student on average," he said. "This is why CSM is taking great strides to educate our students and their parents or families about the opportunity and wise decision to save more than $29,000 by starting here at CSM for your freshmen and sophomore years."
"Providing scholarships is not about paying for courses, it is about investing in you and hoping that you use these opportunities wisely to have a profound impact on tomorrow and on our community's future," said E. Rané Franklin, chair of the CSM Foundation Board of Directors, to the students at the event. "We want to help our students obtain a college education and to do so without accumulating thousands of dollars of debt."
Student speaker Katelyn Gilroy is a two-time recipient of the Greater Waldorf Jaycees and CSM Foundation Scholarship. She talked about the impact the scholarship had on her ability to afford an education.
"When I first was awarded this scholarship I was a senior in high school, ambitious to graduate and begin taking my prerequisites at CSM in order to petition and be accepted into the nursing program and pursue my career as a registered nurse," Ms. Gilroy said. "However, I was worried about having to take out loans in order to afford my classes. Well, that all changed when I got my acceptance letter stating that I had been chosen as one of the Jaycees scholarship winners.
"You see, I stand before you today, proud to say that I am now a sophomore at the College of Southern Maryland where I am in the nursing program and will be finishing my first semester next week," she said. Ms. Gilroy plans to transfer to the University of Maryland for her bachelor's degree and then attend Stevenson University for her master's.
The 2017-2018 scholarship recipients are: Caitlin Addison, Megan Caudle, Ana Chavez, Jordin Dixson, Kiarah Dudley, Meeklyn Duhon, Brittanie Durham, Ashley Fenton, Kayliyah Ball, Morgan Hanson, Dawson Jewell, Noah Jenkins, Ankit Lohani, Seth Morrison, Jean Luc Montilla, Jada Proctor, Jenna Purdy, Kelley Raum, Tashauna Royster, Tristan Sarabia, Savannah Simmons, Rachel Sweeney, Tai Talbot, Darria Thomas, Leo Watson and Quiana Willett.
Renewed recipients are: Suha Ansari, Catherine Co, Patricia Atkinson, Alyssa Danner, Joshua Edwards, Matthew Eppley, Camille De Jesus, Joseph Garrow, Kara Harley, Branden Herscher, Clifford Hughes III, Kayla Johnson, Elizabeth Kennedy, Briana Puffenbarger, Sandra Lopez, Seth Rison, Angela Santos, William Slagle, Zavier Taylor, Leeadrian Tengco, Anttonia Vance, Eden Wagner and James Weeks.
For information on scholarships at CSM, visit the college's website.
For information on donating toward scholarships, visit the CSM Foundation's website.
For more about the College of Southern Maryland, visit its Leader member page.