$4 Billion for JSF Lot 5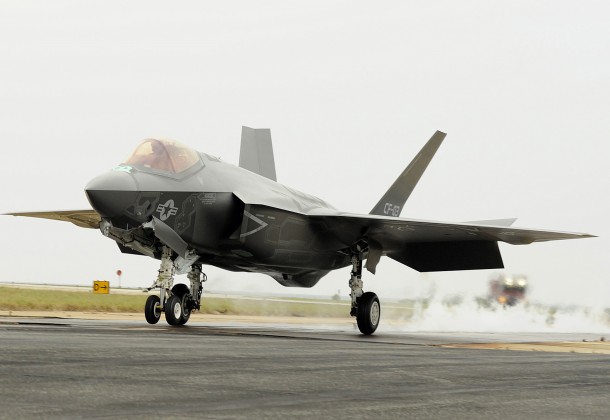 Solicited:
Naval Air Systems Command Solicitation: Original solicitation N00019-10-R-0080 has issued an Amendment 0003 extending the time and date for receipt of offers. Interested parties may submit a proposal no later than (NOTE TIME CHANGE) 10:00 AM (EST) on 22 Dec 2011 or before. A Technical Library of information directly related to the requirements of this contract is available to offerors. The library is located at the Joint Tactical Data Integration web site – https://www.jtdi.mil Distribution of data contained in the technical library to subcontractors and team members shall be the responsibility of the Offeror that was granted access and shall be limited to a "need to know" basis. All guidance contained herein with regard to handling, distribution and destruction of the data shall be flowed down to all subcontractors and team members.
Antenna: Solicitation N00421-12-T-0090 is issued as a synopsis/solicitation. The Government intends to purchase on a firm fixed-price basis and to solicit and negotiate the proposed purchase order on a brand name basis under the authority of FAR 52.211-6 and under the authority of FAR Part 12, FAR Part 13, and Total Small Business Set-Aside authority of FAR Part 52.219-6.
Awarded:
Lockheed Martin Corp., Lockheed Martin Aeronautics Co., Fort Worth, Texas, is being awarded a $4,011,919,310 fixed-price-incentive (firm target) (FPIF) modification to a previously awarded advance acquisition contract (N00019-10-C-0002).  This modification provides for the manufacture and delivery of 30 Low Rate Initial Production Lot V F-35 Joint Strike Fighter (JSF) Aircraft for the U.S. Air Force (21 Conventional Take Off and Landing (CTOL) aircraft); the U.S. Navy (6 Carrier Variant (CV) aircraft) and the U.S. Marine Corps (3 Short Take Off and Vertical Landing (STOVL) aircraft).  In addition, this modification provides for associated ancillary mission equipment and flight test instrumentation for those aircraft, and flight test instrumentation for the United Kingdom.  All effort will be contracted for on a FPIF basis, with the exception of work scope for the incorporation of certain specified concurrency changes that will be contracted for on a cost-sharing/no-fee basis.  Work will be performed in Fort Worth, Texas (67 percent); El Segundo, Calif. (14 percent); Warton, United Kingdom (9 percent); Orlando, Fla. (4 percent); Nashua, N.H. (3 percent); and Baltimore, Md. (3 percent), and is expected to be completed in January 2014.  Contract funds will not expire at the end of the current fiscal year.  This contract combines purchases for the U.S. Air Force ($2,644,270,340; 65.9 percent); the U.S. Navy ($937,374,286; 23.34 percent); the U.S. Marine Corps ($426,190,013; 10.6 percent); and the United Kingdom ($4,084,671; 0.1 percent).  The Naval Air Systems Command, Patuxent River, Md., is the contracting activity.