St. Mary's Airport Keeps Growing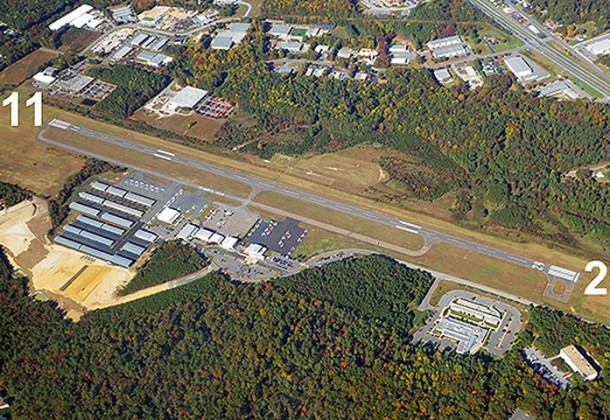 Locally one of the best kept secrets of St. Mary's County, but nationally, St. Mary's County Regional Airport is big news.
St. Mary's airport, next door to Wildewood Group headquarters, is among the only expanding, general aviation facilities in the nation.
In addition, St. Mary's Regional Airport in California, MD, was selected as a testing and development site for unmanned aviation. Already the University of Maryland is moving to the airport to prepare and help to bring products to market in the booming new unmanned vehicle economy.
A Wildewood location is growing in attraction as both the general aviation market and the automated, unmanned economy push to locate at St. Mary's Regional Airport.
Wildewood Group is located within the office park campus of  Southern Maryland's premier work-live-play Wildewood community, next door to the airport and adjacent to the community's neighborhoods. Wildewood Group offers leased office space within the Wildewood community as well as next door to the Patuxent River Naval Air Station in Lexington Park, MD. The company's construction branch, Wildewood Builders, is experienced in commercial and home construction.
After the 9/11 attacks on the United States, the airspace available for private flight changed. A much larger no-fly perimeter was immediately imposed around Washington DC. St. Mary's County Regional Airport became the closest general aviation airport to Washington DC outside the new no-fly zones. The need for hangar space was immediate and continues to grow.
A year ago plans were approved to add 77 more general aviation hangars; seven large hangars.
About the same time the University of Maryland initiated efforts to build  a research and development facility for unmanned, automated vehicle research, development, and commercialization. This is near completion.
The  S. Hunt Aero development team is overseeing more than 100 contractors to get this airport campus ready for the school and for the growing clamor for private hangar space.
Contact Wildewood Group to learn more about locating your growing business next to these growing industries. Wildewood Group; PO Box 750; 44401 Smoke Hill Dr. California, MD 20619; Phone: 301-863-6655