X-47B Arrives at Pax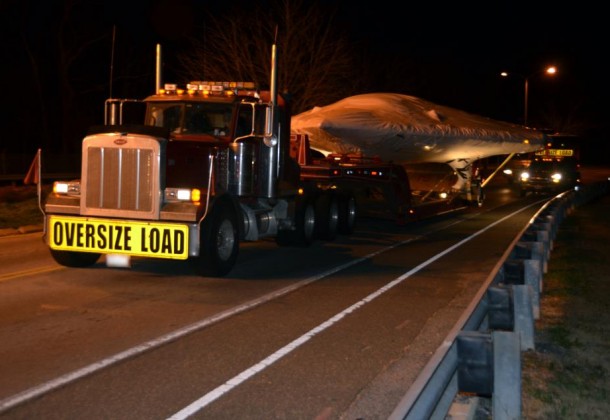 The X-47B Unmanned Combat Air System arrived at Naval Air Station Patuxent River today after completing a yearlong test phase at Edwards Air Force Base, Calif.
Personnel departed Edwards AFB last month with the X-47B loaded on a truck for transport cross-country.
"The transition to Pax River is a highlight for the program," said Capt. Jaimie Engdahl, Navy UCAS program manager. "We are working toward demonstrating the aircraft's ability to operate on and around an aircraft carrier."
The X-47B is a tailless, autonomous, unmanned aircraft that Northrop Grumman is developing and testing for the Navy's UCAS Demonstration program. X-47B is the first fixed-wing unmanned system designed to operate from a Navy aircraft carrier.
The Navy and Northrop Grumman conducted first flight of the X-47B in February 2011 at Edwards AFB. Since then, the aircraft has undergone a series of flight tests demonstrating its performance under a variety of conditions.
The combined Navy/industry UCAS-D team will conduct shore-based carrier suitability tests at Pax River in 2012. Tests will verify the X-47B's ability to communicate with the aircraft carrier and to operate safely and effectively with the ship's catapult and arresting gear.
Testing at Pax River will be conducted following stringent flight safety procedures and will be conducted within restricted airspace. The first X-47B flight at Pax River is planned for spring 2012. A second X-47B aircraft is also scheduled to arrive early next year.
The latest information about the X-47B UCAS can be found here.
Source: PEO(U&W) Public Affairs