Not out of the Woods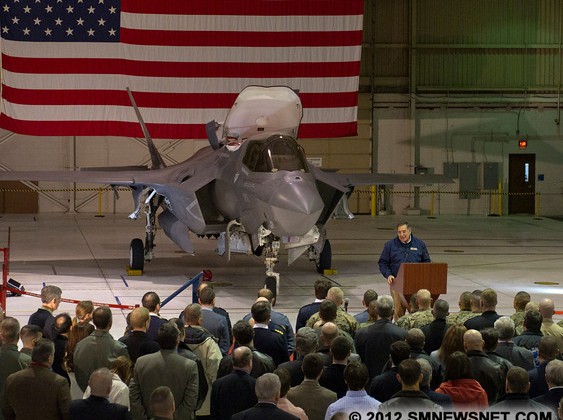 By Jay Friess
Editor
When Defense Secretary Leon Panetta visited Hazelrigg Hanger at Naval Air Station Patuxent River Friday, the Joint Strike Fighter program strove to give visitors the impression that the program is back on track.
The event was tightly choreographed. The press were efficiently shuttled to the hangar for a pre-event briefing given by a Navy test pilot, which closely resembled the talking points of an online briefing done by two Lockheed Martin contract test pilots the day before. The areas roped off for the press ensured that all camera angles would include flattering views of a dramatically lit F-35B Lightning II. And no one, other than Panetta's personal press pool, was able to ask the secretary uncomfortable questions about the progress of the troubled Marine program.
Believe it or not, this was a positive sign that the program is getting back on track.
My last visit to Hazelrigg Hangar was in August 2010 during a tour by local dignitaries. The F-35B program was then falling behind its testing schedule. BF-2, the program's "go fast" plane for testing the flight envelope of the short takeoff and vertical landing variant of the jet, stood in the hangar with a broken roll nozzle hatch swinging limply from its wing. The government spokesman leading the tour expressed more concern about pictures being taken of the jet's proprietary exhaust plug than explaining the program's impact on the Southern Maryland economy.
Five months later, then defense secretary Robert Gates put the F-35B variant on probation, threatening to cancel it if more progress was not made.
And, over the last year, the F-35B integrated test team has stepped up its game. The team completed more tests than were scheduled and even took the planes on a trip out to the USS Wasp for sea testing. Still, according to the Pentagon's Director of Operational Test and Evaluation Report, issued this month, the plane is still 9 percent behind its developmental timeline.
Panetta's decision to take the program off its two year probation a year early has less to do with the program's progress and more to do with it being a prime target for Congressional budget cutters. The White House has already announced nearly half a trillion dollars in cuts for the military over the next ten years, and, because of the failure of the Congressional budget super committee this year, another half trillion in automatic cuts could be on the way. Taking the program off probation was a necessary step if the Pentagon plans to argue to fund the program.
As Panetta told the audience last week, we're not out of the woods yet.