'Welcome Home' Vietnam Vets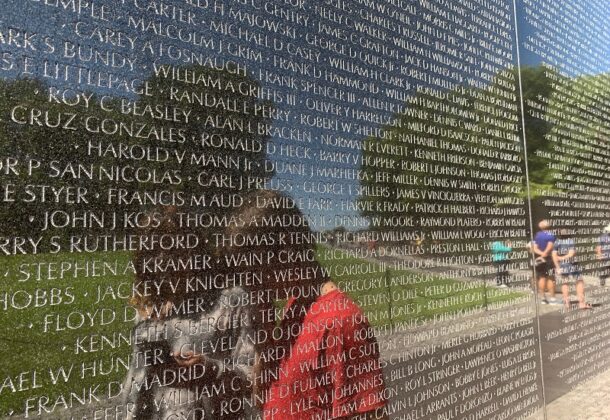 Morning Coffee is a robust blend of links to news around the internet concerning the Naval Air Station Patuxent River

economic community. The opinions expressed here do not reflect opinions of the Leader's owners or staff.
Stars and Stripes reports the Vietnam War Commemoration is welcoming home Vietnam veterans at the National Mall in Washington, DC, from May 11-13, to commemorate the 50th anniversary of the last troops leaving Vietnam. For more information, visit www.vietnamwar50th.com.
The national "Welcome Home" event was planned by the United States of America Vietnam War Commemoration, a congressionally authorized organization launched by former President Barack Obama in 2012 to honor and pay tribute to Vietnam-era veterans, prisoners of war, and MIAs, as well as their families. Air and Space Forces reports the opening ceremony begins May 11 at 11am with a flyover of four Vietnam-era Huey helicopters and a ribbon-cutting of "Camp Legacy," on the west end of the Mall, where attendees can explore static helicopters and vehicles, military museum displays, and more than 40 exhibit tents.
A massive backup diesel generator at the Calvert Cliffs nuclear power plant was recently out of service for at least a week, triggering an ongoing special inspection by the Nuclear Regulatory Commission, reports Maryland Matters. There was no danger to the public. The backup generator is one of five at the nuclear plant in Lusby, MD, which is operated by Constellation Energy and produces about 37% of all electric power in Maryland; two functioning generators are necessary to run the plant's two nuclear towers if the regional electric power grid ever goes down.
Princeton Review and Tutor.com say a Chinese private-equity firm has received regulatory approval to buy the test-prep company and online tutoring platform, reports Wall Street Journal. Primavera Capital Group, based in Hong Kong, quietly purchased the well-known brands from Korean education company ST Unitas in January 2022, at a time of increased scrutiny of Chinese investment in the US. Tutor.com has a longstanding contract to provide its services free to active duty, reserve and other US military service members and also with school districts throughout the US.
The military has found maintenance contractor's errors responsible for the spill of 1,300 gallons of toxic fire suppressant at the Red Hill Bulk Fuel Storage site near Joint Base Pearl Harbor-Hickam, HI, in November 2022, and lack of adequate oversight by the Navy, reports Navy Times.
About 550 active duty troops have begun arriving along the US-Mexico border in the first group of military support ahead of an expected increase of migrants, reports Military Times. Today, Thursday, immigration restrictions linked to the coronavirus pandemic expire leading to concerns about an increase in migrants trying to enter the US starting Friday.
The veterans unemployment rate is at a historic low — 2.1% in April — despite layoffs in the technology sector. Military Times reports that could change if layoffs follow in the leisure, hospitality, and retail sectors where veterans represent a larger portion of the workforce. About a fourth of all veterans work for the government and one in 20 in transportation, compared with one in 13 the civilian population.
FCW reports President Joe Biden would veto a Republican proposal to clawback unobligated funds for unemployment modernization included in Democrats' American Rescue Plan Act if it were to make it to his desk, the Office of Management and Budget said in a statement Monday.
Daniel Perry, a US Army sergeant convicted of murder in the shooting death of an armed protester in a Black Lives Matter march in Texas, faces up to life in prison when his sentencing hearing begins next week, even as Gov. Greg Abbott presses for the chance to pardon the soldier, reports AP. Sentencing is scheduled to last up to two days. State District Judge Clifford Brown, who presided over Perry's trial, last week denied his request for a new trial.
US forces could gain access to a number of military bases near Russian borders if ongoing negotiations with Finland on a Defense Cooperation Agreement prove successful, reports Defense News. Finnish newspaper Helsinki Sanomat reported this month that the proposed agreement may allow for military infrastructure investments in the country, which could benefit the region's fleet of F-35s.
The Justice Department announced this week that it had disrupted a long-running Russian cyberespionage campaign that stole sensitive information from computer networks in dozens of countries, including the US and other NATO members, reports Military Times. Prosecutors linked the spying operation to a unit of Russia's Federal Security Service, or FSB, and accused the hackers of stealing documents from hundreds of computer systems belonging to governments of NATO members.
The Federal Emergency Management Agency is 35% short of its staffing needs, according to its own statistical modeling, the Government Accountability Office said, leaving it more than 6,000 employees shy of what it requires to confront modern demands. GovExec reports agency officials blamed increasing burnout and attrition for the shortfalls, though GAO cited the agency for a lack of metrics to improve its hiring processes.
President Joe Biden is expected to name Air Force GEN C.Q. Brown as the nation's next military's next top officer, reports Politico.  If confirmed by the Senate, Brown would succeed Army GEN Mark Milley, who retires in the fall, as the president's military adviser.
Who is C.Q. Brown? Defense News describes, when commander of Pacific Air Forces and days away from a Senate vote to become the first Black person to serve as a service chief in US history, Minneapolis police officers murdered George Floyd. And Brown knew he had to say something. He made a video that the Air Force ultimately posted in the early hours of June 5, 2020. In it, he spoke for nearly five minutes about his experience as a Black man in the United States and its military. It was a rare commentary among senior leaders — and for someone still awaiting Senate confirmation.
Calling GEN Mark Milley a lightning rod for scrutiny and controversy as chairman of the Joint Chiefs of Staff, Task & Purpose describes some of Milley's 40-year military career, which began with the Korean conflict.
Vermont has made it a crime to own or operate paramilitary training camps in the state. Republican Gov. Phil Scott signed on Monday legislation introduced in response to a firearms training facility built without permits that neighbors called a menace, reports Federal Times.
Anxiety about the safety of Europe's largest nuclear power plant grew this week after the Moscow-installed governor of the Ukrainian region where it is located ordered civilian evacuations, including from the city where most plant workers live. Politico reports, International Atomic Energy Agency Director General Rafael Grossi has spent months trying to persuade Russian and Ukrainian officials to establish a security zone around the Zaporizhzhia Nuclear Power Plant to prevent the war from causing a radiation leak.
The Israeli government has been on the fence about supporting Ukraine with weapons, but defense companies here are eager to pounce on sales opportunities in Europe to restock inventories depleted by donations to Kyiv, reports C4ISRNET.
Russia fired cruise missiles at Kyiv on Tuesday and paraded troops across Moscow's Red Square for its annual celebration of victory in World War II, pared back amid shortages of manpower and arms at the front after a failed winter campaign in Ukraine, reports Reuters. President Vladimir Putin, who casts his invasion of Ukraine as analogous to Russia's fight against the Nazis. Ukraine, which suffered proportionally greater losses than Russia in World War II, calls that an abuse of shared history to justify aggression.
Ukraine celebrated "Europe Day" on Russia's "Victory Day," by decree of Ukrainian President Volodymyr Zelensky, reports The Hill.
Ukraine air defenses shot down 35 Iranian-made drones over Kyiv in Russia's Monday night assault, as attacks across Ukraine by the Kremlin's forces killed four civilians,reports Military Times. At home, Russia enacted a major security clampdown ahead of the WWII commemorations, curbing the use of drones, jet skis, and car-sharing services in its largest cities, reports Military Times.
Marine units must once again conduct random breathalyzer tests on assigned troops, following a years-long pause in the program because of the COVID-19 pandemic, reports Marine Corps Times. Rand Corp. researchers have found that the Marine Corps is the service with the highest prevalence of binge-drinking, defined as more than five drinks for men or more than four for women in one sitting. In 2018, 44.9% of Marines reported binge-drinking in the previous month, compared to 34.0% across the military.
Contracts:
Huntington-Ingalls Industries – Ingalls Shipbuilding, Pascagoula, Mississippi, was awarded a $8,703,236 cost-plus-award-fee modification to previously awarded contract N00024-21 C4205 to procure material in support of planning yard services for operational/in-service Amphibious Transport Dock (LPD-17). Work will be performed in Norfolk, Virginia, and is expected to be completed by December 2025. Fiscal 2023 other procurement, Navy funding in the amount of $8,703,236 will be obligated at time of award and will not expire at the end of the current fiscal year. The Naval Sea Systems Command, Washington, D.C., is the contracting activity. (Awarded April 19, 2023)
MBDA Inc., Arlington, Virginia, is awarded a $19,626,194 not-to-exceed firm-fixed-price, cost-plus-fixed-fee modification to previously awarded undefinitized contract action N00024-23-C-2301 for the production of the Common Anti-Air Module Missile (CAMM) for the Multi-Mission Surface Combatants (MMSC) ships. This contract involves Foreign Military Sales to the Kingdom of Saudi Arabia. Work will be performed in Stevenage, England (70%); Indian Head, Maryland (18%); Huntsville, Alabama (9%); Arlington, Virginia (2%); and Mayport, Florida (1%), and is expected to be completed by January 2027. Foreign Military Sales funds for the Kingdom of Saudi Arabia in the amount of $1,205,203 will be obligated at time of award and will not expire at the end of the current fiscal year. The Naval Sea Systems Command, Washington, DC, is the contracting activity (N00024-23-C-2301).
Northrop Grumman Corp., Chandler, Arizona, is being awarded a firm-fixed-price in-scope modification to a previously awarded other transaction prototype agreement. The value of this modification is $83,712,945, which increases the total value of the agreement to $239,372,600. Under this modification, the performer will continue to develop and refine their Glide Phase Intercept (GPI) concept during the technology development phase. The work will be performed in Chandler, Arizona; Linthicum, Maryland; Colorado Springs, Colorado; San Diego, California; and Huntsville, Alabama. The modification period of performance is from May 9, 2023, through March 12, 2024. This initial agreement was competitively awarded using other transaction Authority provided by 10 US Code 4022 through the Enhanced Hypersonic Defense Broad Agency Announcement with Glide Phase Interceptor Special Topic, HQ0851-21-S-0001. Research, development, test, and evaluation funds will be used to fund the modification. The government will obligate in the amount of $79,237,924 at the time of award. The Missile Defense Agency, Dahlgren, Virginia, is the contracting activity (HQ08512290002).
AICI-Archirodon JV LLC, McLean, Virginia, was awarded a $319,535,250 firm-fixed-price contract for to design and construct port facilities, infrastructure and utilities. Bids were solicited via the internet with two received. Work will be performed in Jubail, Saudi Arabia, with an estimated completion date of Sept. 26, 2026. Fiscal 2023 Foreign Military Sales (Saudi Arabia) funds in the amount of $319,535,250 were obligated at the time of the award. US Army Corps of Engineers, Galveston, Texas, is the contracting activity (W912ER-23-C-0002).
Page Southerland Page Inc., Washington, DC  (W9128F-23-D-0025); Wiley & Wilson Inc., Alexandria, Virginia (W9128F-23-D-0026); and Karn Charuhas Chapman & Twohey PC, Washington, DC (W9128F-23-D-0027), will compete for each order of the $30,000,000 firm-fixed-price contract for architect-engineer services. Bids were solicited via the internet with five received. Work locations and funding will be determined with each order, with an estimated completion date of May 2, 2028. US Army Corps of Engineers, Omaha, Nebraska, is the contracting activity.
General Dynamics NASSCO-Norfolk, Norfolk, Virginia, is awarded a $8,469,847 modification to a previously awarded cost-plus-award-fee/cost-plus-incentive-fee contract N00024-16-C-4306 for the USS Harry S. Truman (CVN-75) Fiscal 2022 planned incremental availability. Work will be performed in Portsmouth, Virginia, and is expected to be completed September 2023. Fiscal 2022 other procurement (Navy) funds in the amount of $8,164,156 will be obligated at the time of award and will not expire at the end of the current fiscal year. Mid Atlantic Regional Maintenance Center, Norfolk, Virginia, is the contracting activity.
CORRECTION: The $137,861,955 contract announced May 5, 2023, to General Dynamic Information Technology Inc., Church, Virginia (FA8629-23-D-5031), to develop and sustain the system-of-systems Special Warfare Assault Kit, was awarded May 9, 2023.