Vets Day Parade Begins 10 am Sunday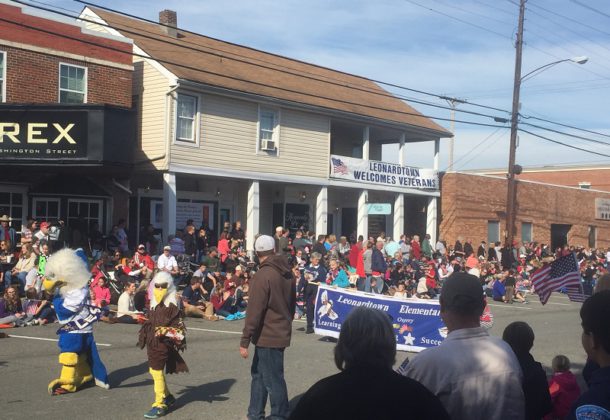 The public is invited to salute America's veterans at the 43rd annual Leonardtown Veterans Day Parade on Sunday, Nov. 11. The march, which starts at 10 am, is sponsored by the commissioners of St. Mary's County and Leonardtown. The parade along Fenwick Street featured veterans, dignitaries, elected officials, local high school marching bands, military units, color guards, classic and antique cars, Boy and Girl Scouts, cheerleaders, motorcycles, horses, as well as fire, police, and emergency personnel and equipment.
Immediately following the parade, spectators are encouraged to remain in the town square for a Veterans Memorial ceremony to include patriotic music, laying of wreaths and words of remembrance. The ceremony will recognize the 100th anniversary of the end of World War I as well as the 50th anniversary of the Tet Offensive during the Vietnam War.
Spectators can come to the square early to speak with representatives from Vacations for Vets of St. Mary's County, Disabled American Veterans, Warfighter Advance, Patuxent River Detachment 1305 of the Marine Corps League, and the 29th Infantry Division stationed at Naval Air Station Patuxent River. These organizations will be set up in the square to provide information on programs for veterans and active-duty military, including ways the general public can help military families.
In the event of inclement weather, the parade will be canceled and the memorial ceremony will take place inside the Leonardtown Town Hall at 22670 Washington Street in Leonardtown. Those wishing to lay wreaths at the monuments may choose to do so.
Spectators are asked to park at the St. Mary's County Fairgrounds and ride one of the complimentary, round-trip shuttles into town. Free parking and shuttles will also be available at the St. Mary's County Governmental Center. Spectators are asked to park in the lots adjacent to the Carter State Office Building (23115 Leonard Hall Drive in Leonardtown). From there you may walk into town or board a shuttle at the shuttle stop near the flagpoles between the Carter State Office Building and the Potomac Building. Wheelchair-accessible shuttles will be available at both locations. The return shuttle stop for both locations will be located across from The Olde Town Pub on the corner of Washington and Shadrick streets.