V-22 Engine Team Honored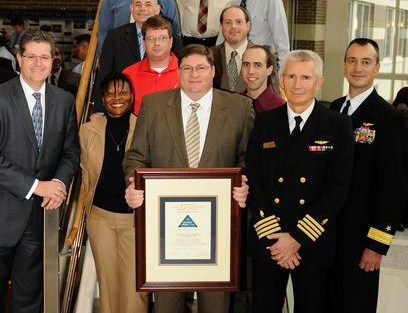 During a ceremony at Naval Air Station Patuxent River Dec. 7, the V-22 Propulsion and Power Integrated Product Team received a Naval Air Warfare Center Aircraft Division Commander's Award for improving engine time-on-wing and reducing costs.
The V-22 Propulsion and Power IPT formed the AE1107 Measured Gas Temperature Increase Team in response to an urgent need to improve V-22 engine time-on-wing and reduce engine total ownership costs. The team evaluated raising the MGT limit of the AE1107 engine, allowing more deterioration margin. The team developed, qualified, tested and fielded upgraded engines for an initial field service evaluation in about half the time as originally expected.
"The technical and logistical analysis required was extensive and the seven-month timeframe from concept development to fielding was a significant achievement for a design change of this nature," said Col. Greg Masiello, manager of the V-22 Joint Program (PMA-275).
The MGTI team formed in January 2011 and completed an initial feasibility study that was favorable but had a 14-month development schedule. Urgent needs of the V-22 user community challenged the team to condense the schedule from 14 to six months. The team met this challenge by developing a critical path schedule, clearly evaluating and articulating engineering data requirements, and agreeing to use processes that would allow many of the technical analysis tasks to be conducted in parallel.
Program officials approved the fully qualified MGT limit modification on Aug. 2, released the interim flight clearance on Aug. 5, and incorporated the MGT limit increase on 27 operational aircraft by the end of August.
The team projects that the AE1107 MGT increase will provide an 80 percent increase in average engine time on wing and, assuming success of the field service evaluation and fleet wide implementation, will avoid about 200 engine removals in the next five years.
"Exceptional teamwork was required to complete the MGTI effort within the compressed schedule," Masiello said. "Not only was it completed in less than half the normal time, but it was accomplished while fully maintaining technical, logistic and programmatic rigor."
The NAWCAD Commander's Award acknowledges efforts and excellence directly related to the NAWCAD mission. The awards recognize achievements in specific problem areas, a breakthrough enabling mission accomplishment or outstanding fleet support in the areas of technical, business or leadership excellence. This is the latest accolade for the PMA which recently won the David Packard Award for Acquisition Excellence.
"Both awards are a testament to the Osprey Team's success in executing its plan to reduce costs and increase availability while keeping the V-22 ready and affordable, effective and survivable," Masiello said. "With its game-changing tiltrotor technology, operational commanders are praising the aircraft as it is revolutionizing special operations and assault support, expanding operational reach in naval supply support, and providing unprecedented speed and range for lifesaving flights."
Source: PMA-275 Public Affairs