More V-22 Contracts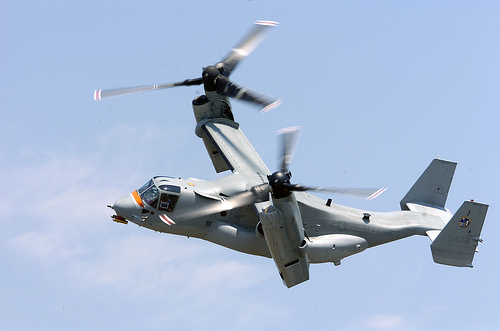 Contracts Solicited:
Network Equipment – Solicitation N00421-12-T-0132 is issued as a synopsis/solicitation. The Government intends to purchase on a firm fixed-price basis, and to solicit and negotiate the proposed purchase order on a brand name justification, under the authority of FAR Part 12, FAR Part 13,FAR Part 52.211-6, and total small business Set-Aside authority of FAR Part 52.219-6.
Pressure Swing Adsorption Generator System – The Naval Air Warfare Center Weapons Division, China Lake, CA intends to procure on a competitive basis.
Acceleration Services – The Naval Air Warfare Center, Weapons Division, China Lake, CA intends to procure on a full and open competition basis Acceleration Testing Services.
Hardigg Accessory Cases – The Naval Air Warfare Center Aircraft Division, Lakehurst, NJ is looking to procure 92 each Hardigg Accessory Cases, P/N AL-40180-1003 for the H-60 PSE Program.
Open Standards-based Vehicle Integration Solution – The Naval Air Warfare Center Aircraft Division (NAWCAD), Special Communications Requirements (SCR) Division, in support of the United States Special Operations Command (USSOCOM), Science & Technology (S&T) is surveying the commercial vendor community for vendors who are capable of open standards-based vehicle integration solutions.
Contracts Awarded:
Bell Boeing Joint Project Office, Amarillo, Texas, is being awarded a $7,283,403 modification to a previously awarded fixed-price-incentive-fee V-22 multi-year production contract (N00019-07-C-0001) to provide for production line preparation and production incorporation of unique identification marked parts for MV and CV Lot 16 aircraft.  Work will be performed in Philadelphia, Pa. (73 percent); Fort Worth, Texas (17 percent); and Amarillo, Texas (10 percent).  Work is expected to be completed in October 2014.  Contract funds will not expire at the end of the current fiscal year.  The Naval Air Systems Command, Patuxent River, Md., is the contracting activity.
Aerostats and Spares – TCOM, L.P. wins procurement of 28M Aerostats and Site Spares in support of Persistant Ground Surveillance Systems (PGSS)
Unmanned Aircraft System for Intelligence, Surveillance and Reconnaissance – Naval Air Systems Command (NAVAIR) issued contract N00019-11-C-0061 to Insitu Inc, Bingen, WA as a FFP effort to procure UAS ISR services.
Variable Frequency Generator Reliability Improvement for the V-22 Aircraft – The Naval Air Systems Command intends to issue a contract action under the Basic Ordering Agreement N00019-12-G-0006 with the Bell-Boeing Joint Program Office.