USS Bush Makes Its Way to Persian Gulf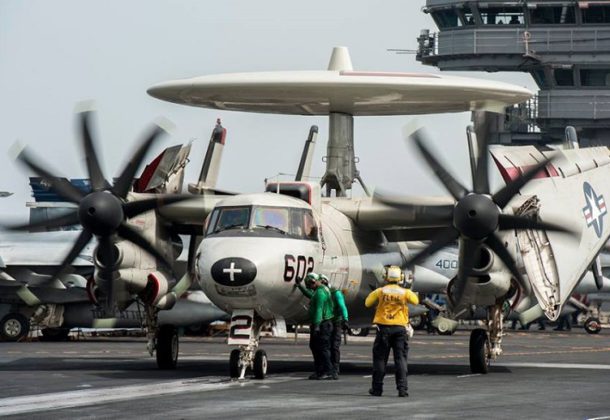 Morning Coffee is a robust blend of links to news around the Internet concerning the Naval Air Station Patuxent River

economic community. The opinions expressed here do not reflect opinions of the Leader's owners or staff.
The first US aircraft carrier of Trump presidency entered the Persian Gulf last week, Navy Times reports. President Donald Trump has warned that Iranian forces will be blown out of the water if they challenge US naval vessels there. The USS George H.W. Bush's overall mission is to provide a base for airstrikes against the Islamic State group.
The Pentagon is set this week to review a new helicopter from Lockheed Martin, Bloomberg reports. The helicopters would transport heavy cargo for the Marine Corps. The Defense Acquisition Board is scheduled to meet March 30 to review whether to approve low-rate production for the first 24 of a planned 200 King Stallions. The initial contract would cover two of the aircraft capable of lifting 27,000 pounds. The program is valued at as much as $29 billion.
South Carolina and Greenville County officials are being mum on details of Lockheed Martin's plan to move production of its F-16 fighter jet to South Carolina from Fort Worth, TX, GreenvilleOnline reports. But officials are calling the news "fantastic." "This announcement is yet another feather in [Greenville's leadership] cap and will pay dividends for the city, community, and state in years to come," Sen. Lindsey Graham (R-SC) said.
Lockheed Martin announced it will expand production for components of the F-35 Lightning II with a new facility in Johnstown, PA, AreaDevelopment.com reports. The company plans to create more than 40 new jobs by the end of 2018.
The US has already agreed to sell F-35s to Japan and to South Korea. As the third major US ally in the region, Taiwan would be a natural customer for the F-35. Motley Fool asks, "Would Donald Trump Arm Taiwan With Lockheed Martin's F-35?"
Air Force weapons developers expect to operate hypersonic intelligence, reconnaissance, and surveillance drones by the 2040s, once scientific progress with autonomy and propulsion technology matures to a new level, Defense Systems reports.
The USAF's secretive X-37B mini-shuttle broke its own record of time spent in orbit, Florida Day reports. The experimental space plane spent its 675th day in space Saturday on a mission known as Orbital Test Vehicle-4, or OT-4.
Defense News reports the Pentagon is rethinking the way it purchases wideband satellite communications and is looking to industry for ideas. As part of a Wideband Communications Services Analysis of Alternatives study, the department will seek details on the latest satellite technologies, as well as what is in the art of the possible.
There has been much press coverage regarding Russia's involvement in alleged hacks during the US presidential election. Defense One reports that while the details of these specific attacks remain unclear, what is clear is the danger posed by the superpower's hacking prowess. The question is not if Russia will conduct another major cyberattack on the US, but when.
C4ISRNET reports that it is crucial for cyber resilience to look beyond the information systems. Cyber resilience goes beyond the digital realm.
Sonny Fann was honored for his service to veterans and his efforts to help more than 2,000 veterans and wounded warriors find employment at NAVAIR, The BayNet reports. He received the Navy Superior Civilian Service Award during a ceremony at Pax River earlier this month. He serves as NAVAIR's Wounded Warrior Program senior outreach coordinator and placement advocate.
April's international wargame exercise — the Atlantic Trident 17 — will feature the US Air Force's elite 1st Fighter Wing's F-22 Raptor, F-35 Joint Strike Fighters from the 33rd Fighter Wing as well as British Eurofighter Typhoons and French Dassault Rafales, The National Interest reports. Additionally, F-15E Strike Eagles from Mountain Home Air Force Base in Idaho will participate in the exercise alongside E-3 AWACS radar planes.
Contracts:
Raytheon Co., Integrated Defense Systems, Marlborough, Massachusetts, is being awarded a $37,296,370 fixed-price incentive (firm target) modification to previously awarded contract (N00024-16-C-5144) to exercise options for two Missile Fire Control System (MFCS) MK 99 equipment ship sets.  This option exercise provides support for Aegis Weapon System (AWS) production requirements. The MFCS MK99 is a critical component of the AWS.  Work will be performed in Andover, Massachusetts (78 percent); Marlborough, Massachusetts (19 percent); Waterloo, Ontario, Canada (1 percent); Moorestown, New Jersey (1 percent); and Chesapeake, Virginia (1 percent), and is expected to be completed by September 2020. Fiscal 2017 shipbuilding and conversion (Navy) funding in the amount of $37,296,370 will be obligated at time of award and will not expire at the end of the current fiscal year. The Naval Sea Systems Command, Washington, District of Columbia, is the contracting activity.
AH Environmental Consultants Inc., Newport News, Virginia (W91278-17-D-0020); CH2M Hill Inc., Englewood, Colorado (W91278-17-D-0014); and Garver LLC, North Little Rock, Arkansas (W91278-17-D-0011), will share in a $10,000,000 firm-fixed-price contract for architect and engineering services to support the Water and Wastewater Technical Center of Expertise, Mobile District, US Army Corps of Engineers. Bids were solicited via the Internet with 11 received. Work locations and funding will be determined with each order, with an estimated completion date of March 23, 2022. U.S. Army Corps of Engineers, Mobile, Alabama, is the contracting activity.
Northrop Grumman Systems Corp. Aerospace Systems, Melbourne, Florida, is being awarded $32,766,375 for modification P00037 to a previously awarded fixed-price-incentive, cost-plus-fixed-fee contract (N00019-13-C-9999) to exercise an option for software support activity and product support efforts for the full-rate production Lot 5 E-2D Advanced Hawkeye aircraft.  Work will be performed in Melbourne, Florida (65.9 percent); Syracuse, New York (12.8 percent); Norfolk, Virginia (5.4 percent); St. Augustine, Florida (5.4 percent); Indianapolis, Indiana (3.7 percent); Owego, New York (2.2 percent); Greenlawn, New York (2.2 percent); Bethpage, New York (1.6 percent); Woodland Hills, California (0.5 percent); and Marlborough, Massachusetts (0.3 percent), and is expected to be completed in March 2018.  Fiscal 2017 aircraft procurement (Navy) funds in the amount of $32,766,375 are being obligated on this award, none of which will expire at the end of the current fiscal year.  The Naval Air Systems Command, Patuxent River, Maryland, is the contracting activity.