US Stalls Jet Transfer Plan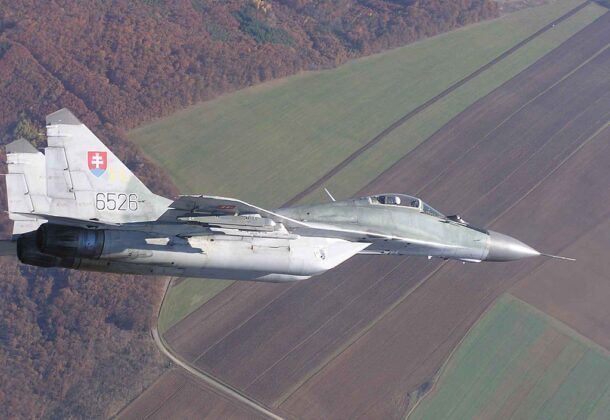 Morning Coffee is a robust blend of links to news around the internet concerning the Naval Air Station Patuxent River

economic community. The opinions expressed here do not reflect opinions of the Leader's owners or staff.
The Pentagon says Poland's fighter jet transfer offer is not "tenable," reports Air Force Times. The announcement from Poland's Ministry of Foreign Affairs of a multinational fighter jet swap to bolster Ukraine's air force met push back from some US officials who have been in negotiations on that issue for several days. Poland's offer to transfer its MiG-29 Fulcrum fighter jets to the US military in Germany, so the US could then decide whether to give them to Ukraine, is not "tenable," Pentagon Press Secretary John Kirby said in a Tuesday evening news release.
Congress agrees to $14 billion in Ukraine-related aid, reports The Hill, and billion in Ukraine-related aid, which they expect to include in a massive government funding package. Senate Minority Leader Mitch McConnell (R-Ky.) announced the deal, which will include humanitarian assistance and military aid in response to Russia's invasion of Ukraine. "Where we've ended up is at $14 billion," McConnell said.
War in Ukraine: West hits Russia with oil bans and gas curbs, reports BBC. The US and UK are banning Russian oil, and the EU is ending its reliance on Russian gas, stepping up the economic response to the invasion of Ukraine. Major brands have meanwhile continued to pull out of Russia, with McDonald's and Coca-Cola the latest to leave. Russia's economy is heavily dependent on energy. It is the world's third-biggest oil producer, behind Saudi Arabia and the US.
Russian forces tighten the grip on Kyiv gateway as residents describe growing perils, reports The Washington Post. As thousands flee the besieged Kyiv suburb Irpin, allegations are emerging of Russian forces looting, hiding military equipment in residential areas, deploying snipers, and cutting water and power as they seek to use the area as a potential launchpad to invade the capital.
A destroyer can't deploy because CO won't get COVID vaccine, reports Navy Times. It's all connected to an ongoing lawsuit challenging the legality of the military's COVID-19 vaccine mandate. An ongoing legal battle over whether the military can force troops to get vaccinated against COVID-19 has left the Navy with a warship they say they can't deploy because it is commanded by an officer they cannot fire.
After years of buildup, the largest corruption scandal in Navy history is finally getting a hearing in a federal courtroom in San Diego, reports KPBS. Leonard Glenn Francis, "Fat Leonard," pleaded guilty to overcharging the Navy millions of dollars to birth ships around the western pacific in 2015. The last five naval officers charged with helping him are now on trial. Retired RADM Bruce Loveless, former CAPT David Newland, former CAPT James Dolan, former CAPT David Lausman, and former CMDR Mario Herrera pleaded not guilty. All served on board the USS Blue Ridge, the Seventh Fleet's flagship during various times from 2004 to 2014.
No F-35 production decision will arrive before the end of fiscal 2023 — at the earliest, the result of testing delays, reports Defense News. LTGEN Eric Fick, the program executive officer for the F-35 Joint Program Office, said the F-35's critical Joint Simulation Environment testing, which has to happen before the aircraft's initial operational test and evaluation phase can be closed, is now expected to take place in early spring or summer 2023.
The first Columbia Ballistic Missile Submarine begins to take shape, reports USNI. Building-sized sections of the future USS Columbia (SSBN-826) have been under construction at the General Dynamics Electric Boat facility at Quonset Point, RI, under cover from the Rhode Island winter and largely unseen due to the COVID-19 pandemic. The facility is finalizing an almost $2 billion yard expansion to build the dozen boat Columbia-class to replace the aging class of Ohio SSBNs, as well as building the larger Virginia Payload Modules for the Block V Virginia-class attack submarines.
Concerns over the Veterans Administration's electronic health records mount after another system problem, reports Military Times. Veterans Affairs officials are downplaying a technology problem that forced its new electronic medical records system offline at a Washington state medical center last week, but lawmakers say the event raises more concerns as the department prepares to deploy it to new sites. Last Thursday afternoon, the director of the Mann-Grandstaff VA Medical Center told employees in an email to stop using the new health record system because of emerging problems. "Assume all electronic patient data is corrupted/inaccurate."
Navy contractor's helicopter nose dived before crash killed four, according to the National Transportation Safety Board. The helicopter crashed in Hawaii last month, killing all four aboard. It nose-dived from 200 feet (60 meters) above ground after it unexpectedly stopped while making a shallow left turn. Navy Times reports NTSB's preliminary report on the February 22 crash on Kauai said US Navy contractor Croman Corp. was using the Sikorsky S-61N helicopter to retrieve inert training torpedoes from the Pacific Ocean at the time.
Shackleton's lost ship is found in the Antarctic, reports BBC. Scientists have found and filmed one of the greatest-ever undiscovered shipwrecks 107 years after it sank. Endurance, the lost vessel of Antarctic explorer Sir Ernest Shackleton, was found at the bottom of the Weddell Sea. The ship was crushed by sea-ice and sank in 1915, forcing Shackleton and his men to make an astonishing escape on foot and in small boats. Even though it has been sitting in 3km (10,000 feet) of water for over a century, it looks just like it did on the November day it went down.
The Charlotte Observer reports an Aviation Mishap Board has been convened to investigate the Thursday crash of a 28-year-old, $37 million jet fighter based at Marine Air Station Beaufort that was nearing the end of its service life. The Marines have issued a call to the public for assistance in the probe, asking residents who took photographs or video of the aircraft before the crash on Coosaw Plantation, four miles north of the air station, to send their name and contact information to [email protected]. The crash was the fourth aviation mishap in five years involving an aircraft at Marine Corps Station Beaufort assigned to the 2nd Marine Aircraft Wing, which also has squadrons at Cherry Point and New River.
Contracts:
EGI HSU JV LLC, Rockville, Maryland, is awarded a $9,526,683 firm-fixed-price task order (N4008022F4073) under a multiple award construction contract (N40080-21-D-0027) for renovation of "A" Wing, Building 1500, at Naval Support Facility Dahlgren. The work to be performed provides for the interior renovation and conversion of current spaces to provide admin offices and support spaces. It will also provide upgrades for existing spaces, including lab rooms, toilet rooms, mechanical rooms, electrical rooms, workshop, and loading areas, as well as exterior window replacement, electric panel replacement, and lightning protection. Work will be performed in Dahlgren, Virginia, and is expected to be completed by January 2024. Fiscal 2022 working capital (Navy) contract funds in the amount of $9,526,683 will be obligated on this award and will expire at the end of the current fiscal year. Six proposals were received for this task order. The Naval Facilities Engineering Systems Command, Washington, Public Works Department South Potomac, Dahlgren, Virginia, is the contracting activity.
Excet Inc., Springfield, Virginia, was awarded a $24,868,846 hybrid (cost-no-fee, cost-plus-fixed-fee and firm-fixed-price) contract to purchase chemical/biological surety and non-surety laboratory services. Bids were solicited via the internet with two received. Work locations and funding will be determined with each order, with an estimated completion date of March 13, 2025. US Army Contracting Command, Aberdeen Proving Ground, Maryland, is the contracting activity (W911SR-22-D-0039).
Saab Inc., Orlando, Florida, is awarded a $68,867,437 firm-fixed-price modification to a previously awarded undefinitized contract (M67854-21-C-8051) for Force on Force Training Systems-Next (FoFTS-Next). The FoFTS-Next is the next generation of Instrumented – Tactical Engagement Simulation System (I-TESS) for the Marine Corps. The FoFTS-Next Increment 1 consists of instrumentation systems for individuals, vehicles, buildings and weapons. FoFTS-Next Increment 1 also encompasses the command and control and network systems required to transport, process, and display data from the instrumentation. The contract contains 52 option contract line item numbers, which if exercised would increase the cumulative contract value to $248,041,332. Work will be performed at the following locations: Huskvarna, Sweden (67.7%); Orlando, Florida (9.8%); Twentynine Palms, California (6.9%); Camp Pendleton, California (5.7%); Camp Lejeune, North Carolina (5.2%); Kaneohe Bay, Hawaii (2.5%); Stafford, Virginia (2%); and Syracuse, New York (0.2%). Work is expected to be completed by June 2025. Fiscal 2020 procurement, Marine Corps contract funds in the amount of $35,854,118 are obligated on this award and will expire at the end of the current fiscal year. Fiscal 2021 procurement, Marine Corps contract funds in the amount of $25,275,092 are obligated on this award and will not expire at the end of the current fiscal year. Fiscal 2022 procurement, Marine Corps contract funds in the amount of $7,738,227 are obligated on this award. This contract was awarded under the authority of 10 US Code 2371b using competitive procedures. The Marine Corps Systems Command, Quantico, Virginia, is the contracting activity (M67854-21-C-8051).