US Cyber Offensive to Protect Midterms from Russian Interference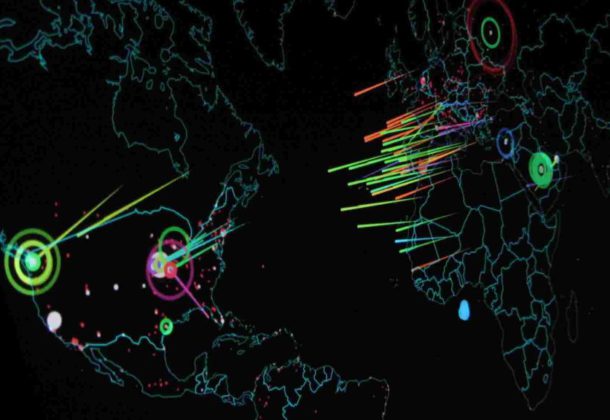 Photo by Christiaan Colen, reproduced under Creative Commons licensing.
Morning Coffee is a robust blend of links to news around the internet concerning the Naval Air Station Patuxent River 

economic community. The opinions expressed here do not reflect opinions of the Leader's owners or staff.
US launches cyberoperation against Russia to protect midterm elections, reports The New York Times. The operation counters what the Justice Department describes as a campaign of "information warfare" by Russians targeting the US midterm elections.
In 2015, the Coast Guard estimated 16,000 gallons of oil a day was still spilling into the Gulf of Mexico from the 14-year oil spill that is slated to become the worst in US history, reports Newsweek. In 2004, Hurricane Ivan caused a mudslide that sank an oil-production platform owned by Taylor Energy. The oil wells were not capped and continue to spill into the gulf.
Will exiting the Intermediate-Range Nuclear Forces Treaty mean New START is next? Defense News reports on the possibility of the New Start nuclear treaty also landing in the administration's crosshairs. New START treaty limits the deployed forces of both nations to 1,550 nuclear warheads over 700 delivery systems, including intercontinental ballistic missiles, submarine-launched ballistic missiles, and bombers.
Taiwan has taken delivery of its first locally upgraded Lockheed Martin F-16 fighter jet, reports Defense News. The single-seat aircraft is the first of four Taiwanese Air Force F-16A/B fighters currently being upgraded by state-owned Aerospace Industrial Development Corporation to the F-16V Block 70 standard.
The US Navy will have to pony up and race the clock to avoid a sealift capacity collapse, reports Defense News. The sealift fleet transports up to 90 percent of the Army's and Marine Corps' gear by sea when war demands. The Navy reported to Congress that the fleet faces a modernization crisis by the end of the 2020s if the Navy can't arrest its decline.
Lockheed Martin will shift from its littoral combat ship's water-jet propulsion to a propulsion system with a twin screw design for its future frigate offering. One of the major hang-ups with the design requirements for all the competitors has been requirement that the engineering spaces be separated by a certain number of meters so that if the ship takes damage in one area, the other space should be online to drive the ship.
NASA uses a traditional fix for Hubble gyroscope issues: turning it off and on again, reports Engadet.  However, the on-off fix that slowed the gyroscope's rotation to hold the telescope still and lock in on a target wasn't a single toggle solution.
Russians are on track for December Soyuz flight to station, reports Spaceflight Now. NASA reports the Russian engineers believe they know what went wrong during an Oct. 11 launch to the International Space Station that forced the ship's two-man crew to carry out an emergency abort.
While Lockheed's $15 billion air-defense deal is vulnerable to congressional demands to stop arm sales to Saudi Arabia after the murder of critic Jamal Khashoggi, Bloomberg reports that  the $110 billion package of arms sales that President Donald Trump announced on his visit to the Gulf nation last year — and has vowed to protect despite Khashoggi's death — was always aspirational at best.
Germany has halted arm sales to Saudi Arabia until Khashoggi's case is cleared up, reports Reuters, which could jeopardize a big UK-led Eurofighter order from Riyadh and could hit jobs at a shipyard in struggling northeastern Germany.
DoD has selected 400,000 service members to participate in a Health Related Behaviors Survey about diet, exercise, and sleep habits; alcohol and tobacco use; and sexual behavior, reports Military Times. The random selection survey will be e-mailed to about 11 percent of the active-duty force and about 20 percent of Guard and Reserve members.
B-2 makes emergency landing at Colorado airport, pilots unharmed, reports Air Force Times. The B-2 Spirit stealth bomber from the 509th Bomb Wing at Whiteman Air Force Base landed at an airport in Colorado Springs, after an in-flight emergency early Tuesday morning. The B-2 was en route to Whiteman in Missouri at the time and the cause is under investigation.
The Wounded Warrior Project pledges $160 million to four institutions for two- and three-week courses of intensive treatment for veterans suffering from PTSD and traumatic brain injury. The institutions named for the donations are the "Home Base" program at Massachusetts General Hospital in Boston; the "Road Home" program at the Rush University Medical Center in Chicago; veterans programs at Emory Healthcare in Atlanta; and to "Operation Mend" at UCLA Health in Los Angeles.
During her almost two years serving as President Trump's ambassador to the United Nations, Nikki Haley carved out a distinct niche as the administration's most prominent voice confronting Latin America's leftist regimes. Mrs. Haley's surprise decision to step down leaves the Trump administration without an obvious point person for Western Hemispheric affairs.
Contracts:
Northrop Grumman Systems Corp., Charlottesville, Virginia, is awarded an $18,118,858 firm-fixed-price contract to provide common Integrated Bridge and Navigation Systems (IBNS) for the DDG-51 New Construction Ship Program and DDG-51 Midlife Modernization Program. The IBNS is a hull, mechanical and electrical upgrade and part of the comprehensive plan to modernize the DDG-51 class to ensure the ships remain combat relevant and affordable throughout their life. This contract will serve as the base hardware production contract for IBNS systems. The contract includes options which, if exercised, would bring the cumulative value to $163,963,639. Work will be performed in Charlottesville, Virginia, and is expected to be completed by February 2020. Fiscal 2018 other procurement (Navy); and fiscal 2018 and 2016 shipbuilding and conversion (Navy) funding in the total amount of $18,118,858 will be obligated at time of award and will not expire at the end of the current fiscal year. This contract was competitively procured via the Federal Business Opportunities website, with one offer received. The Naval Sea Systems Command, Washington, District of Columbia, is the contracting activity (N00024-19-C-4101).
DynCorp International LLC, McLean, Virginia, has been awarded a $22,500,000 indefinite-delivery/indefinite-quantity contract for Egypt personnel support services. This contract provides for housing, transportation, security, vehicles and labor to support defense contractor employees and department of defense employees. Work will be performed in Egypt and is expected to be completed by Sept. 24, 2023. This contract involves foreign military sales (FMS) to Egypt and is the result of a sole-source acquisition. FMS funds in the amount of $2,742,237 are being obligated at the time of award. Air Force Life Cycle Management Center, Wright-Patterson Air Force Base, Ohio, is the contracting activity (FA8630-19-D-5016).
Norfolk Dredging Co., Chesapeake, Virginia, was awarded a $13,501,500 firm-fixed-price contract for maintenance dredging of the Delaware River. Bids were solicited via the internet with one received. Work will be performed in New Castle, Delaware, with an estimated completion date of March 13, 2019. Fiscal 2016, 2017, 2018 and 2019 operations and maintenance, Army funds in the amount of $13,501,500 were obligated at the time of the award. US Army Corps of Engineers, Philadelphia, Pennsylvania, is the contracting activity (W912BU-19-C-0002).