Undersecretary Griffin to Speak July 13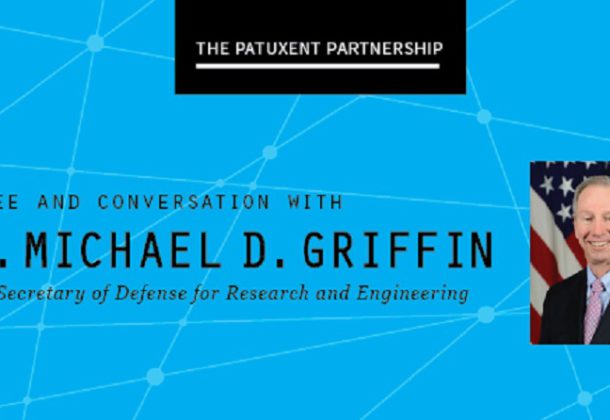 The Patuxent Partnership has arranged a briefing by Dr. Michael D. Griffin, the undersecretary of defense for research and engineering. This exciting opportunity will be offered from 8 to 9:30 am Friday, July 13, 2018, at the Southern Maryland Higher Education Center, located at 44219 Airport Road in California, Maryland.
A recent article published in The Washington Post featured Dr. Griffin, highlighting his belief in the importance of the hypersonic arms race with Russia and China. Dr. Griffin was quoted as saying the United States needs to do more to respond to the threat of hypersonic missiles. He said falling behind in the race will give the country's adversaries a military advantage.
There is no fee to attend the briefing. Advance registration is requested to manage seating and can be done on The Patuxent Partnership's website. Check-in and coffee will be available starting at 7:30 am. The briefing will begin at 8 am.
Upcoming Event
The Patuxent Partnership invites its members and the regional community to a program on National Security & Protecting Land in Your Community – PAX Tidewater Land Trust and REPI. The event will be held from noon to 2 pm Wednesday, July 18, 2018, at the Precise Conference Center at 22390 Exploration Drive in Lexington Park. There is no cost for this program.
The event will feature representatives from the PAX Tidewater Land Trust, Andrew Garte, executive director; Frank Allen, president of the board of directors; and David Moulton, board member. Also in attendance will be DoD REPI representatives Sabrina Hecht, community plans liaison officer, Pax River NAS; and Lynne M. Keenan, community plans liaison officer, Naval Support Activity South Potomac.
Register here.
About The Patuxent Partnership
The Patuxent Partnership connects the dots to foster collaboration among academia, industry, and government from technology to STEM — science, technology, engineering and math — initiatives in Southern Maryland and beyond, to promote sustainable economic vitality and enhanced quality of life.
TPP is a non-profit member organization working to advance technology through speaker programs, forums, and networking; to advance science and technology transfer through the exchange of ideas, information, and data related to technologies; and to increase workforce development through an array of programs and initiatives. TPP also hosts programs of interest to NAVAIR, NAWCAD, and the broader DoD community.
To learn more about The Patuxent Partnership and its programs, visit its Leader member page.