Unauthorized "Fire and Fury" Spreading Malware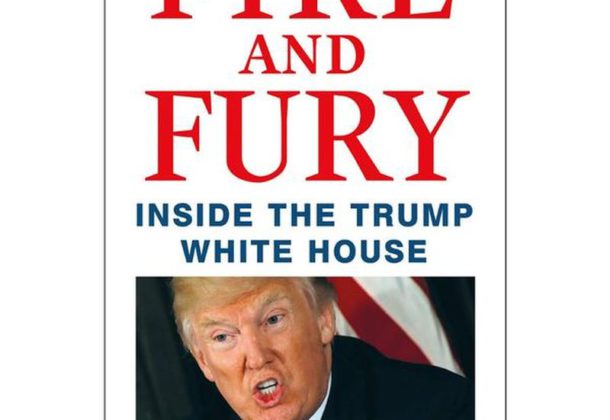 Morning Coffee is a robust blend of links to news around the internet concerning the Naval Air Station Patuxent River

economic community. The opinions expressed here do not reflect opinions of the Leader's owners or staff.
Hackers are using PDF versions of the controversial book "Fire and Fury" to spread malware, reports International Business Times. A Kaspersky Labs researcher first highlighted a piece of malware found on a pirated version of the book. Official digital versions are not affected, free and unauthorized copies of the book may be.
The US Navy is tracking a Russian spy ship, the Viktor Leonov, spotted earlier this week 100 miles southeast of Wilmington, North Carolina, reports CNN.
Montana governor signs net neutrality order, reports The New York Times, declaring any internet service provider with a state government contract cannot block or charge more for faster delivery of websites. In December, the Federal Communications Commission rolled back rules meant to protect a free and open internet.
President Donald Trump's pick for a top Commerce Department post privately assured Republican senators that he would look at reversing the Obama administration's decision to give up US oversight of the internet, reports Politico.
China pursues capabilities such as anti-satellite weapons that could diminish the US military's reconnaissance, navigation, and communications in case of war in the South China Sea or on the Korean Peninsula, reports the Cipher Brief.
Another blow to the Warthog, reports American Military News, with one-third of the fleet, 110 A-10s, in jeopardy if the Air Force can't pay for new wings. The Project on Government Oversight reported on the re-winging effort.
SpaceX's big rocket, the Falcon Heavy, finally makes it to the launchpad, reports The New York Times, with hopes of ultimately offering NASA a quicker, cheaper path to the moon. In the near term, the mega-rocket could help the company compete in new markets like the launching of large spy satellites for the US.
The Air Force launches its fourth next-gen missile warning satellite from Cape Canaveral, reports C4ISR, aboard a United Launch Alliance Atlas 5 rocket.
There's no plan to put an F-35 production line in India, reports Defense News, clarifying confusion between discussion on the F-35 and the company's well-publicized bid to move its F-16 line to India.
Naval Surfaces Forces commander retires early amid fallout from deadly collisions, reports American Military News. VADM Thomas Rowden, replaced by VADM Richard Brown, called it a "difficult decision … [made] with the best interest of the Surface Warfare community and the Navy in mind."
Another Marine Viper attack helicopter was forced to make an emergency landing in Okinawa this week, reports Marine Corps Times. This follows a Jan. 8 emergency landing as a result of a sensor malfunction, the same incident plagued another Viper in early 2017. About a month ago a window fell out of a CH-53E landing in Okinawa, and on Jan. 6, a UH-1Y was forced to land after it experienced an issue with the main rotor.
The recently retired head of the National Nuclear Security Administration says the NNSA is stretched as far as it can go. Notable, says Defense News, in light of a leaked draft of the upcoming Nuclear Posture Review which suggests the launch of another nuclear warhead modification project.
Gov. Lawrence Hogan's incentive package to lure Amazon to build its second headquarters in Montgomery County, faces numerous pockets of resistance from the General Assembly, reports Maryland Matters.
A collision course with India and brewing fight with China could mark Trump's scheduled capstone speech tomorrow, Friday, at the annual World Economic Forum in Davos, Switzerland, reports The Washington Post.
A fierce flu season continues to pummel the DC region, reports The Washington Post, reflecting what health officials are reporting from coast to coast.
Contracts:
Atlantic Diving Supply Inc., Virginia Beach, Virginia, has been awarded a $15,156,094 firm-fixed-price contract for commercial off-the-shelf self-protection items. This is a two-year contract with no option periods. This was a competitive acquisition with four responses received. Location of performance is Virginia, with a Jan. 16, 2020, performance completion date. Using customers are Afghan National Police and Afghan National Army. Type of appropriation is fiscal 2018 through 2020 defense working capital; and foreign military sales funds. The contracting activity is the Defense Logistics Agency Troop Support, Philadelphia, Pennsylvania (SPE1C1-18-D-1024).