UAS Test Site Interns Tackle Real-World Challenges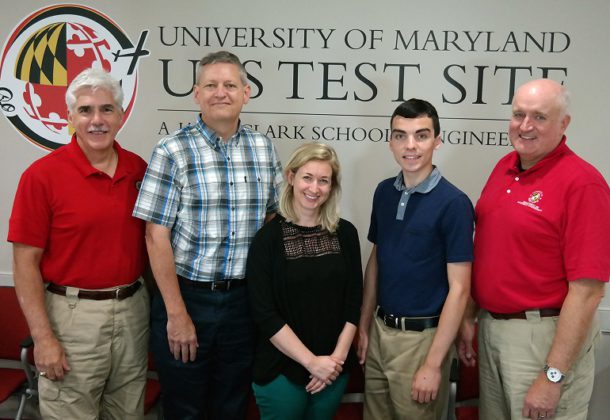 Interns from the College of Southern Maryland presented the projects they created during their  two-month summer internships at the University of Maryland UAS Test Site.
The projects once would have been considered futuristic — a quadcopter that works both in the air and in the water, another that flies and then transforms into a rolling vehicle once it lands, software that translates a massive amount of information collected by a swarm of drones into a coherent report for a human. These students, still in the process of working on their bachelor degrees, designed these projects and others this summer, all applying unmanned aircraft systems-related solutions to real-world challenges.
These students took turns Aug. 4 presenting their projects.
"It's been a really good experience," said UAS Test Site Director Matt Scassero, commending the quality of the group's work and projects.
The 10 students included two from the College of Southern Maryland, sophomores Kristina Babinski of La Plata and Edward Gesser III of Mechanicsville, with the rest of the interns coming from the University of Maryland. Ms. Babinski and Mr. Gesser were the first CSM interns in the three-year history of the intern program and were two of only three interns who hadn't completed the first half of their bachelor's degree.
"They really held their own. They have both done an excellent job," said CSM assistant professor Byron Brezina, who served as a mentor to Ms. Babinski and Mr. Gesser during the internship.
"They all brought their individual challenges and strengths to the table and banded together to take on the research problems and solve them collaboratively," Mr. Scassero said. "Once it was time to work and fly, their research it was game-on, and they were a great team."
Ms. Babinski, an electrical engineering major at CSM and the only female student in this year's internship program, was the first to present at the event. She described the different considerations necessary to write the code to create a thermal points search-and-rescue map. Her project is designed to assist search-and-rescue teams identify non-water-related items like a large mammal or a vehicle in the water. Using infrared thermal images collected by drones, Ms. Babinski wrote code that transfers that information onto a map. The project, for instance, could assist rescue teams trying to locate a boat in distress.
"I had zero experience in aviation before coming to this internship," Ms. Babinski said during her presentation, which for all the students included a discussion of the challenges faced during their projects and lessons learned. "I flew a drone for the first time."
She ended her presentation with a request for more women in the internship program, an idea endorsed by the program administrators. Ms. Babinski is president of the CSM Women in STEM club.
Mr. Gesser, a mechanical engineering major at CSM, took on a project during his internship that was suggested by National Aeronautics and Space Administration's Goddard Space Flight Center.
"I worked on two separate systems, one for the NASA project that was designed to integrate a hyper spectral sensor package onto a UAV and one for NOAA," he said. The National Oceanic and Atmospheric Administration Center for Weather and Climate Prediction project involved Mr. Gesser mounting a sensor payload to a UAV as well as protecting the payload in case of a crash.
The work required that Mr. Gesser create this system primarily from measurements from the payload and sensors he was trying to protect, without having the actual payload and sensors present as he worked. He used a 3-D printer to create custom parts.
"I was quite pleased it all fit when I was finished," he said.
Mr. Gesser said the two-month-long internship project "extensively" enhanced his CAD skills.
"I enjoyed working on a larger-scale project and to be able to contribute to what they are doing at the test site," he said.
While this was the first time CSM students have been invited to participate in the UMD UAS Test Site internship program, it will not be the last. Mr. Scassero said the UMD UAS Test Site administrators sit on advisory boards for CSM curriculum and know the quality of CSM's faculty, staff, and students, both as a stand-alone institution concentrating on workforce development and as a feeder path to other higher education centers.
"CSM is the highest yield community college contributing to the Clark School of Engineering, and we are continually impressed with the students' capabilities and the flexibility of CSM to be responsive to workforce needs," Scassero said. "We will always have a place for CSM interns."
Both Babinski and Gesser plan to complete their associate degree at CSM and then transfer to UMD to continue their education. This CSM connection with UMD is one of more than 60 transfer opportunities available to CSM students.
For more about CSM's Mathematics, Physics and Engineering programs, visit the college's website.
A CSM Internship Fair scheduled for November will be available only for current CSM students. CSM students or any employers interested in offering internships can contact Career Services for the details at CareerServices@csmd.edu.
For more about the College of Southern Maryland, visit its Leader member page.