Two Marine Hornets Land in Taiwan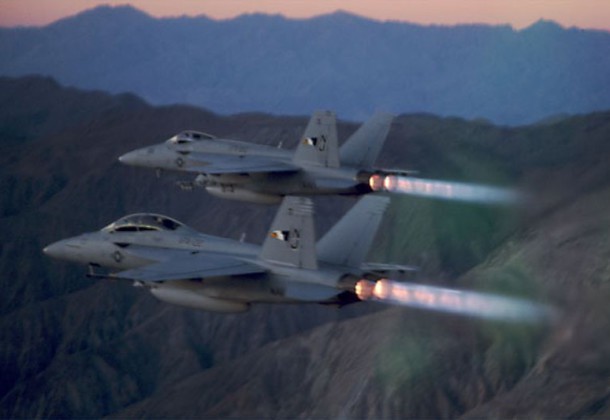 Morning Coffee is a robust blend of links to news around the internet concerning the Naval Air Station Patuxent River economic community. The opinions expressed here do not necessarily reflect those of the Leader's owners or staff.

Whether maintenance was needed — or not — two F-18's emergency landing on the island of Taiwan showed the Chinese some Pentagon muscle on the heels of a Chinese bomber drill near the island nation, reports the Washington Times.
Defense Systems reports the US moving toward offense in the cyber domain.
The exact composition of the non-Newtonian liquid, STF (Shear-Thickening Fluid), is a secret shared by its inventors at Moratex and the Military Institute of Armament Technology in Warsaw. What is known is, when hit by a high-speed projectile, it hardens instantly. In body armor it disperses massive energy away from the wearer's internal organs.

Declaring a no-sail zone for its ships, North Korea is maintaining its aggressive stance in the lead-up to US DefSec Ash Carter's visit to South Korea later this week, reports International Business Week. Last Friday North Korea fired four short range missiles off its west coast. Mr. Carter weighed in on an Asian-Pacific trade deal President Obama is having a hard time selling to Democrats in Congress. The trade deal is as important to the DefSec "as another aircraft carrier," reports The Hill.
Get comfortable being uncomfortable to build military toughness, says Military.com.
Clearing sea mines is so difficult, sinking ships or shooting planes before they can drop sea mines is considered the best defense. Otherwise it's a labor intensive, life-endangering process. "The great leap forward today," Breaking Defense continues its sea mine series, "is that 'somebody' is increasingly likely to be a robot."
The US Army Program Executive Office for Simulation, Training, and Instrumentation (PEO STRI)  awarded CTSi of Lexington Park, MD, a delivery order based indefinite delivery/indefinite quantity (IDIQ) contract with a maximum contract value of $16M. The Multiplex Data Bus Controller Translator Transmitter (MDBCTT or "Mudbucket®") was originally developed under an Army Small Business Innovative Research (SBIR) program for the Program Manager for Instrumentation, Targets, and Threat Simulators (PM-ITTS) within PEO STRI. The purpose of this Mudbucket Phase III SBIR award is to continue efforts that extend or logically conclude work performed under Phase I and Phase II contract awards. The overarching objective is to facilitate the successful commercialization of Mudbucket and its derivatives.
The Navy is awarding indefinite-delivery/indefinite-quantity, multiple-award contracts to 464 contractors from 612 offes, competitively procured via the Navy Electronic Commerce Online website. These contracts are in addition to the existing 2,420 contracts previously awarded under the SeaPort Enhanced (SeaPort-e) acquisition program for services procurements. The government estimates a maximum of $5,300,000,000 of services will be procured per year via orders issued under the SeaPort-e multiple award contracts. The SeaPort-e acquisition is comprised of seven regional zones in which task orders will be competed based upon the principal place of performance. These awards contain provisions to set aside requirements for small businesses, service disabled veteran owned small businesses, 8a business development program and historically under-utilized business zone small businesses. The awards will have four-year periods of performance.  Contract funds will be obligated at the time of task order award and, multiple funding types with varying expiration dates may be used, consistent with the purpose for which the funds were appropriated. The Naval Surface Warfare Center, Dahlgren Division, Dahlgren, Virginia, is the contracting activity (N00178-15-D-8053 — N00178-15-D-8516). Among the 464 contractors are these in Southern Maryland:  Airport Properties Inc. doing business as AP IT Solutions, California, Maryland; Avening Management and Technical Services LLC doing business as AveningTech, La Plata, Maryland; Brace Management Group Inc., Upper Marlboro, Maryland; Dial & Associates LLC, California, Maryland; Disk Enterprise Solutions Inc., Lexington Park, Maryland;  Enterprise Systems Management LLC, Leonardtown, Maryland; HazTrain Inc., Waldorf, Maryland; High Side Technology LLC, California, Maryland; J. Aguinaldo Group Inc., Hollywood, Maryland; Kairos Inc., California, Maryland; KeThink SFS, Lexington Park, Maryland; Neany Inc., Hollywood, Maryland; SPC Business Consulting, Waldorf, Maryland; Yahya Technologies LLC doing business as Y-Tech, Brandywine, Maryland.