Trump Executive Order Freezes Federal Hiring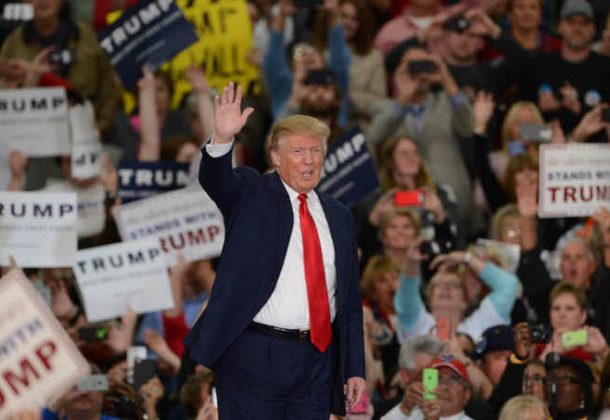 Morning Coffee is a robust blend of links to news around the Internet concerning the Naval Air Station Patuxent River

economic community. The opinions expressed here do not reflect opinions of the Leader's owners or staff.
President Donald Trump issued an executive order Monday freezing some federal government hiring, The Washington Post reports. The hiring freeze excludes the military. He also withdrew the US from the Trans-Pacific Partnership.
John Kelly has received Senate confirmation to lead the Homeland Security Department, Federal Times reports, putting a tough-talking retired Marine general in charge of overseeing the president's pledge to crack down on illegal immigration.
In a DoD memo, DefSec James Mattis has signaled that his tenure at the Pentagon will bring closer ties between the military, State Department, and America's intelligence agencies, Military Times reports. Mattis called the military's role, along with the intelligence community, as "sentinels and guardians of our nation."
An opinion piece in Breaking Defense says the need is clear to replace the air-launched cruise missile with long-range stand-off cruise missile, though the new DefSec expressed doubts over plans to buy the nuclear LRSO during his Senate confirmation hearing.
Theresa May, Britain's prime minister, is scheduled to meet with President Trump later this week. Voice of America reports that she will use the opportunity to discuss the future trading relationship between the US and Britain, as well as NATO, and challenges such as defeating terrorism. Trump also has invited Israeli Prime Minister Benjamin Netanyahu to meet with him in Washington. The two leaders spoke by telephone, Voice of America reports.
Stars and Stripes reports the Taliban asked Trump to remove all US troops from Afghanistan and hinted at a willingness to work with the US. The insurgent group posted a statement on its website Sunday calling on President Trump to "put an end to the invasion."
The president announced Monday he intends to nominate Heather Wilson to be the secretary of the Air Force, according to a White House news release. Wilson is the president of the South Dakota School of Mines & Technology and a former US congresswoman. If confirmed, she will be the first Air Force Academy graduate to become secretary of the Air Force.
Military strategist Andrew Krepinevich says the No. 1 threat to the US isn't Russia or Islamic terrorism. He says it's China with its wealth, population, and "thin-skinned nationalism," Breaking Defense reports.
Defense Systems reports F-35s, F-22s, and other fighter jets will soon use improved artificial intelligence to control nearby drone wingmen that will be able to carry weapons, test enemy air defenses or perform intelligence, surveillance, and reconnaissance missions in high risk areas.
Lockheed Martin test pilot David "Doc" Nelson became the first pilot to achieve 1,000 flight hours in the F-35 during testing earlier this month at Edwards Air Force Base in California, Aerotech News reports. Nelson is a retired Air Force pilot, who currently works for Lockheed. He has been flying the F-35 since 2009.
The aerospace industry is undergoing a light attack surge. To meet demands of 21st-century warfare, militaries are reaching for a Vietnam-era weapon, Air & Space Smithsonian explores in "Return of the Light Brigade."
Contracts:
AAI Corp., doing business as Textron Systems, Hunt Valley, Maryland, has been awarded a $9,352,070 predominantly firm-fixed-price contract for contractor logistics support and maintenance training services. Contractor will provide these services for 24 aircraft to Train, Advise, Assist Command-Air in support of the Afghan Air Force. Work will be performed at Kabul, Afghanistan; and Kandahar, Afghanistan, and is expected to be complete by Jan. 31, 2018. This award is the result of a competitive acquisition with four offers received. Fiscal 2017 Afghan Security Forces funds in the amount of $9,352,070 are being obligated at the time of award. Air Force Life Cycle Management Center, Wright-Patterson Air Force Base, Ohio, is the contracting activity (FA8617-17-C-6218).
Amyx Inc., Reston, Virginia, has been awarded a $189,263,856 ceiling cost-plus-award-fee task order under the General Services Administration (GSA) OASIS Small Business Pool 1 contract to provide the Joint Improvised-Threat Defeat Organization (JIDO) with sensitive mission support services without organizational conflicts of interest. Services include: systems engineering and technical assistance; acquisition and program management; JIDO operations support; mission-based research and analytical assistance, as well as support services for acquisition and contracting, human capital management, resource management, security assurance, logistics, facilities safety and operations, event and communications support, process improvement, and organizational effectiveness. The task order provides a key component for JIDO's mission to enable Department of Defense actions to counter improvised threats with tactical responsiveness and through anticipatory, rapid acquisition in support of combatant commands' efforts to prepare for, and adapt to, battlefield surprise in support of counter-terrorism, counter-insurgency, and other related mission areas including counter-improvised explosive device (IED). Work will be performed in Virginia and the National Capital Region. The expected completion date is Jan. 17, 2022. Joint IED Defeat funds in the amount of $4,185,000 are being obligated at the time of award. This task order was a competitive acquisition and eight offers were received. It is part of the JIDO Enterprise Acquisition Strategy Initiative which is intended to: (1) meet current and evolving mission requirements; (2) comply with acquisition laws, regulations, and policies; and (3) improve mission effectiveness, output, and organizational synergy. GSA Federal Systems Integration and Management Center is the contracting activity, in support of JIDO (GSQ0017AJ0022). (Awarded on Jan. 18, 2017)
Sotera Defense Solutions Inc., Herndon, Virginia, was awarded an $11,036,371 modification (P00007) to contract W911NF-16-C-0005 for a Defense Advanced Research Projects Agency research and development effort titled, "Technology Demonstrations and Assessments Using a Data Science Approach to Situation Understanding for Counter Insurgency Operations." Work will be performed in Arlington, Virginia, with an estimated completion date of Jan. 20, 2019. Fiscal 2017 research, development, test and evaluation funds in the amount of $1,995,881 were obligated at the time of the award. Army Contracting Command, Research Triangle Park, North Carolina, is the contracting activity.
DynCorp International LLC, McLean, Virginia, has been awarded a $26,485,838 firm-fixed-price, cost-plus-fixed fee, cost reimbursable contract for war reserve materiel. Contractor will provide storage, maintenance, outload, reconstitution, exercise and contingency logistics support. They are also responsible for the maintenance, repair and minor construction of government furnished facilities. Work will be performed at Kuwait, Oman, United Arab Emirates, and Qatar, and is expected to be complete by Sept. 30, 2017. This award is the result of a competitive acquisition with six offers received. Fiscal 2017 operations and maintenance funds in the amount of $26,485,838 are being obligated at the time of award. Air Combat Command, Joint Base Langley-Eustis, Virginia, is the contracting activity (FA4890-17-C-0005).