TPP Special Awards to Science Fair Winners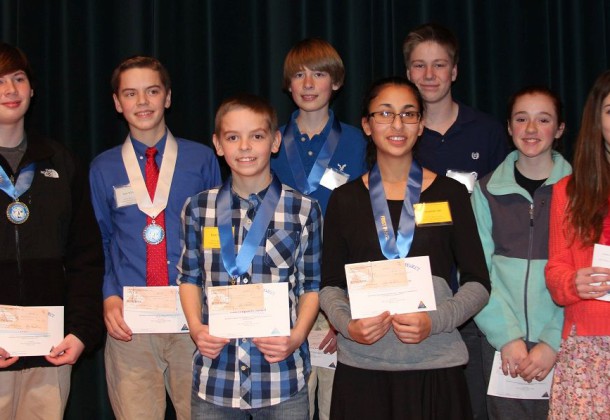 Posted for
The Patuxent Partnership
The 55th Annual St. Mary's County Science and Engineering Fair was held on February 7, 2015, at Great Mills High School. This year over 125 entries were submitted, making judging for The Patuxent Partnership (TPP) Special Awards more difficult than ever. Lead judges for TPP were Mr. Greg Olson (Wyle) and Mr. Robert "Bob" Ernst (NAVAIR).
Eight middle and high school participants earned TPP Special Awards in the scientific areas of Aeronautics/Aerospace, Electrical/Electronics, Environmental/Biological, and the Unmanned Systems with cash prizes totaling $600.
2015 TPP Special Award Winners:
Aeronautics/Aerospace
Senior Category: Matthew Marrs
Project: Electromagnetic Ring Launcher
Home School
Junior Category: Savannah Jabr
Project: Wind Turbine Blades Efficacy
Spring Ridge Middle School
Electrical/Electronics:
Senior Category: James Kelley
Project: Depth Sensing Aid for the Blind
Great Mills High School
Junior Category: Mykayla Hayden
Project: Are Rare Earth Magnets an Electric Motor's BFF?
Father Andrew White, S.J. School
Environmental/Biological
Senior Category: Jonathan Feid
Project: Temperature Change on Regeneration
Great Mills High School
Junior Category: Madison Marigliano
Project: Go Tree Free
Spring Ridge Middle School
Unmanned Systems Chief Engineer Award
Senior Category: Jaret Williams
Project: Smart Mailbox
Great Mills High School
Junior Category: Ryan Williams
Project: Kinect Controlled Robotic Arm
Spring Ridge Middle School
Special Award winners will showcase their projects at the upcoming TPP/International Council on Systems Engineering (INCOSE) Special Awards Reception on March 12 at the Patuxent River Naval Air Museum. Special guest speaker Ms. Leslie Taylor, SES, Executive Director, Integration and Interoperability/ Integrated Warfighting Capability Enterprise Team Lead will address STEM education and the role our young Science Fair winners will play in defining the future. Ms. Taylor will be accompanied by Mr. Scott Smith, Superintendent of Schools, St. Mary's County Public Schools to present the TPP awards.
The TPP/INCOSE awards reception is open to the public and advanced registration is recommended. For more information, visit www.paxpartnership.org or contact Cyndi Deppe, (301)866-1739 ext. 308.
TPP is a proud sponsor of the region's Science Fairs and Expos, as well as many other STEM related programs and competitions. With the help of our Benefactors, Board of Directors, and Corporate Members, TPP provides support in many different ways, to include logistics, sponsorship, and judging.
Sponsored by: