TPP Members Donate to St. Mary's Caring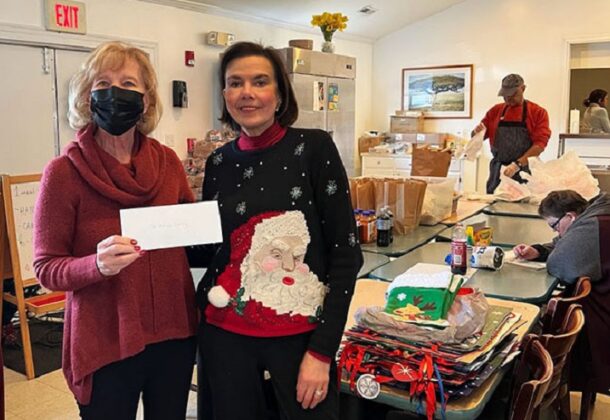 The Patuxent Partnership Executive Director Bonnie Green, right, presents a donation from the TPP staff and TPP holiday party attendees to Kristine Millen of St. Mary's Caring.
The Patuxent Partnership made a donation during the holidays to St. Mary's Caring.
Through the generosity of Bubby Knott, the former Brass Rail in Great Mills will become the new St. Mary's Caring facility. It will take considerable resources to convert the building to its new use. The mission of St. Mary's Caring is to provide free meals to anyone in need, no questions asked, serving all with a spirit of compassion, dignity, and respect.
TPP members may drop off donations to be delivered to the facility. The needed items include:
Cereal, canned tuna, Tuna Helper, dried pinto beans, canned chicken, flavored noodle packets, pepperoni, fresh apples and oranges, assorted chips, fruit snack cups, boxed drinks, and Zip-lock baggies.
For more information on St. Mary's Caring, visit its website or call Kristine Millen at 301-863-5700.
About The Patuxent Partnership
The Patuxent Partnership is a nonprofit member organization that fosters collaboration between government, industry, and academia to advance education through STEM-based initiatives; to advance technology through speaker programs, forums, and networking; to advance science and technology transfer through the exchange of ideas, information, and data related to technologies; and to increase workforce development through an array of initiatives.
To learn more about The Patuxent Partnership and its programs, visit its Leader member page.