The Time Is Now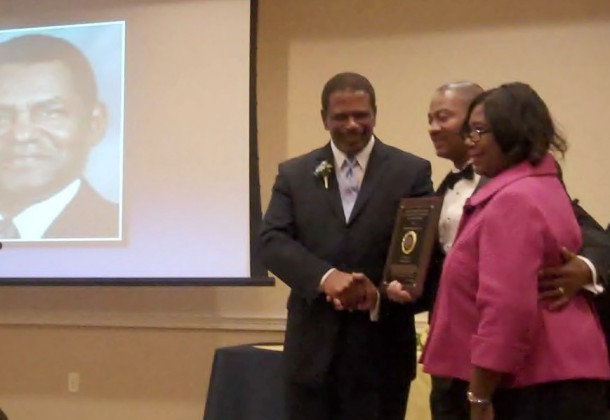 "The Time is Now — Stand and Protect Your Future" was the theme of the NAACP St. Mary's County Branch's annual Freedom Fund banquet, which broke with tradition this year and moved to River's Edge Conference Center at Naval Air Station Patuxent River.
The evening's theme, explained by chapter president Wayne M. Scriber in the program's greetings, dovetailed with the message from the evening's  keynote speaker, Dr. E. Faye Williams, chair of the National Congress of Black Women. She will "challenge and motivate you to unite as a community in order to stand against the institutions that threaten our social and economic well-being. The theme," Mr. Scriber said, "expresses the urgency of this need."
Dr. Williams called upon the 200 attendees to "be inclusive, care about our neighbors…We are destined to be a great people… Evil," she said, "cannot triumph forever…
"The NAACP was not afraid to bring us through slavery, lynching, Jim Crow (laws) … all of you have the ability to improve .. to bring people together, not separate them."
In addition to Dr. Williams' call to action, the evening honored the inaugural recipients of the St. Mary's County Branch NAACP's Lifetime Achievement Award:
Bernie "Bertie" Bowman, a member of the local NAACP chapter since the 1960s and honored for a life's work with youth.
James A. Forrest, Sr., who went forth from his key role in desegregating St. Mary's County public schools to becoming the first African American president of the board of education.
Viola M. Gardner, whose careers spanned national and local public service and included typing the briefs for the Brown vs. Board of Education of Topeka, Kansas in the historic school desegregation decision by the Supreme Court.
Robert "Bobby" Gant, described as a "role model and natural leader" whose dedication to the St. Mary's County made it "one of the most livable" communities.
Stephen R. Young who organized the St. Mary's County chapter of the NAACP and served as it president for 16 years. His accomplishments included the founding of Banneker as the first public high school in St. Mary's County to award diplomas to black students.
[youtube=http://www.youtube.com/watch?v=30Wcq8ztT3k]