Bobby Gant Passed By Here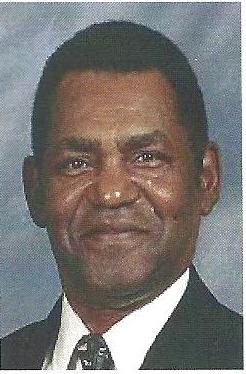 Even during his funeral mass it was hard to remember Bobby Gant wouldn't be at the door of St. Peter Claver, ushering us onward.
"We all remember the first time we met Bobby," preached one of the four priests attending the scores of family members and hundreds of friends ushered this day by others into Bobby Gant's parish. What this priest meant wasn't exactly that, he equivocated. What he meant was that everyone remembers when they first got Bobby Gant.
For me it was when Bobby Gant credited a photograph for winning him a seat on a local central committee.  Specifically, a 1994 front page photograph in The Enterprise newspaper I had taken a few days before the election.
Bobby was front and center, not because he'd finagled, but because he had taken responsibility for the safety of the woman the photograph featured, Marian Vessels, appointed by the governor to improve the lives of disabled Marylanders.
Marian had declared she would go anywhere in Maryland to reduce obstacles for those with disabilities. The Enterprise asked her to walk Great Mills Road. For Marian that meant wheeling the road from her wheelchair.
When she agreed, the newspaper invited the community – specifically government officials – to join the walk. A couple of county staffers did show up and a few community activists, including Bobby.
The walk was far more treacherous than I'd imagined. It began at a red light on a curb far too high for a wheelchair to traverse. Panic rose from my stomach to my throat waiting for the signal. This had been an idiotic idea. The light turned.  Bobby stepped forward and took hold of Marian's chair and helped her safely down the curb and carefully into oncoming traffic to make the ill-placed ramp to the next curb. For the rest of the wheeling-walk he helped Marian negotiate curbs, crumbling sidewalks,  utility poles in the middle of sidewalks, and thus often along the edge of Great Mills Road.
There wasn't any reason to argue with Bobby Gant. So I never did. (And few things feel as fine as a gregarious man praising your work.) But even back then I was seasoned enough to know newspaper photos  didn't hold such a strong correlation with election wins. More likely voters responded to a man who showed up when asked to help, took responsibility upon arriving and then praised others for affording him the blessing. More likely than a photograph propelling him toward election, Bobby Gant helped propel the construction of accessible sidewalks which finally this summer line most of Great Mills Road.
Most likely Bobby Gant accomplished his election win like everything else he accomplished in his life, by facing obstacles squarely,  working to overcome them and sharing the credit if not giving it away entirely.
"Fear and faith," said another of Bobby Gant's funereal priests, are two sides of the same coin. It is always our choice, no matter how dire our circumstances, to choose faith. To accept the nobility in a game well played, rather than fear the outcome. That, he preached, is choosing faith over fear.
Bobby chose faith, unshakeable faith.  Despite obstacles or temporal outcomes, he held unshakeable faith that justice was attainable if pursued with vigor and grace and persistence.
Struggling this Independence Day with the notion that Bobby Gant really and truly might not usher us into St. Peter Claver again, I can still feel — and I have faith that it ever will be —  Bobby ushering us onward.
Stories: