Thomas Johnson Bridge Painting Begins This Weekend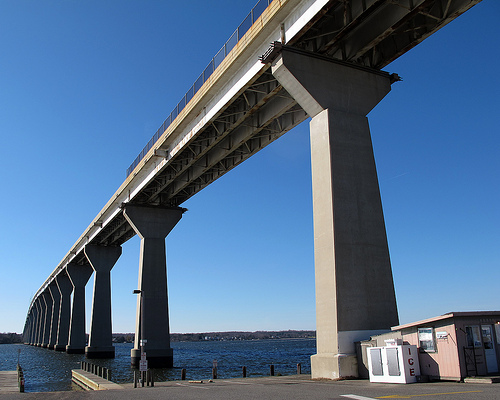 Beginning Sunday night, March 18, the Maryland State Highway Administration (SHA) will begin a project to clean, paint and repair portions of the MD 4 Thomas Johnson Bridge over the Patuxent River. Work includes cleaning and painting steel girders, rehabilitating concrete girders and installing drainage troughs. The project will be performed on both the Calvert County and St. Mary's County sides of the bridge. Work will be limited to bridge spans over land, Town Creek and the Patuxent River near shorelines.  This work will not extend to the center spans over the Patuxent River channel.
SHA's contractors will first install a containment system under the bridge.  This setup operation requires crews to temporarily remove the chain link fence atop the bridge parapets (walls).  Work will take place from 9 p.m. to 5 a.m., Sunday through Thursday nights – weather permitting.  To ensure the safety of motorists and workers, SHA will close one lane of the bridge during these overnight operations. Crews will safely guide motorists across the bridge using a flagging operation.  SHA placed portable variable message signs along MD 4 and MD 235 to provide motorists with advance notice of bridge work.
SHA awarded the $3.2 million painting contract to Klicos Painting Company of Baltimore; the project is expected to be complete spring 2013.  The concrete girder work will be performed under a separate contract beginning in April and is expected to be complete late 2012.  SHA awarded this $2.3 million contract to SDR Construction of Tallahassee, Florida.
For more information about this work and other State-maintained routes in southern Maryland, customers may call the SHA District 5 Office at 410-841-1000 / toll-free at 1-800-331-5603 or send e-mail to [email protected].
Source: Maryland State Highway Administration