Tennant Takes Command of Navy's F-35, X-37B Testing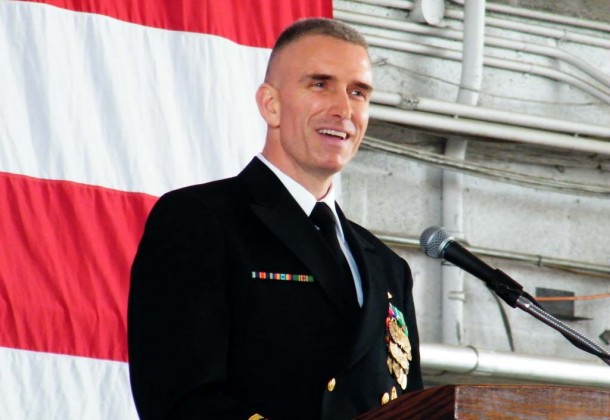 By Jay Friess
Editor
Cmdr. Thomas R. Tennant said Thursday that he was "taking the best job at NAVAIR" when he took command of the "Salty Dogs" of VX-23, the Navy's Strike Aircraft Test Directorate at Naval Air Station Patuxent River.
But the best job in the Naval Air Systems Command also comes with a harsh spotlight.
Tennant took command of the squadron responsible for rigorous testing of three of the Navy's most high-profile programs – the Electromagnetic Aircraft Launch System (EMALS), the X-47B Unmanned Combat Air System demonstrator and the F-35 Lightning II Joint Strike Fighter program. And Tennant takes command from Marine Col. Charles S. Gray, whose unsparing assessments of the F-35B and F-35C variants of the JSF caused much ire in Congress and the Pentagon over the last year.
Col. Roger Cordell, commander of Naval Test Wing Atlantic, made it clear that Gray risked his reputation to put the JSF program back on track, noting that Gray's most pessimistic assessments of the fighter's early development turned out to be optimistic.
"He's transparent," Cordell said. "What you see is what you get."
Cordell warned Tennant that his new job is a high-pressure one, but added, "You're the right guy to take that pressure and turn it into success at VX-23."
Before departing his command, Gray, who is going on to command the AV-8B Harrier Program Office (PMA-257), reminded his squadron that their primary responsibility is not high-profile program testing.
"It's supporting our carriers at sea," Gray said. "Sustaining the fleet is the number one priority of VX-23."
Gray also warned that "the hard work is yet to come" with the JSF and stated, "We must not let metrics and terms such as 'affordable, supportable' distract us from the goal – 'deliverable.'"
After officially taking command, Tennant added a little levity to the ceremony, saying, "On today, the Ides of March, I've been happy to have been a part of an uneventful command change."
Tennant acknowledged that "our nation has much invested in the work ongoing at VX-23," and he told the squadron that he expects them to continue their "thorough, unemotional reporting" of their testing work.