Suspicious Packages Arrive in DC Region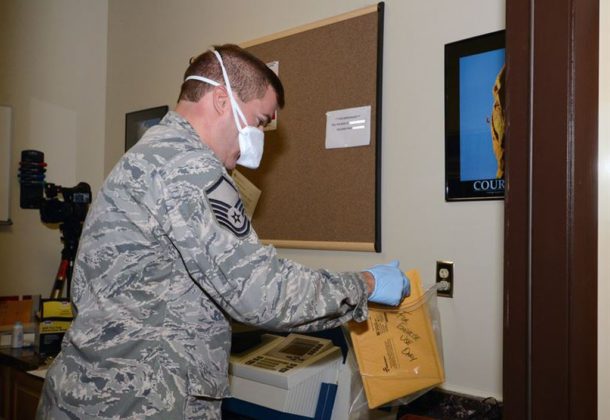 Morning Coffee is a robust blend of links to news around the internet concerning the Naval Air Station Patuxent River

economic community. The opinions expressed here do not reflect opinions of the Leader's owners or staff.
Suspicious packages have been received at military installations in the Washington region, reports The Washington Post, including at Joint Base Anacostia-Bolling in the District, Fort Belvoir in Virginia, and at mail processing facilities for both the CIA and the White House. Packages may have been received at as many as six sites.
Two key GOP senators are pressing President Donald Trump to share the F-35 or F-16V fighter jet to upgrade Taiwan's aging air power and deter China, reports Defense News. But Defense One reports experts warn the fighter ideally suited for Taiwan, the F-35B, could pose more of a risk than a deterrent.
DefSec Jim Mattis declined to answer questions on the Pentagon's new transgender policy, reports Military Times. "Right now, because these are matters under litigation, I'm not going to discuss them further," Mattis said. Last week the White House released a memo from President Trump, adding to the ongoing clarifications to the policy.
Lawmakers applaud a Navy decision to reject a secular humanist as a Navy chaplain, reports Navy Times. Called an atheist by some, the Humanist Society describes humanism as a "a progressive philosophy of life that, without theism and other supernatural beliefs, [which] affirms our ability and responsibility to lead ethical lives of personal fulfillment that aspire to the greater good of humanity."
The F-35C Lightning II completes qualifications aboard the Abraham Lincoln as the Navy's variant of the JSF nears expected initial operational capacity this year, reports Navy Times. Yet War is Boring reports no finish line is in sight for the JSF. Announced in 2001 as the high-performance replacement for the military's aging airframes, an F-35 was forecast to cost between $40 million and $50 million, ready to enter service in 2008.
DoD denies planning to "liquidate" two main aircraft bases in the Middle East, reports Military Times. Al Udeid Air Base in Qatar and Incirlik Air Base in Turkey are considered critical to US force projection into the Middle East and have been important launching pads in the fight against the Islamic State in Iraq and Syria.
A Finnish Air Force pilot landed a F/A-18C Hornet on a US aircraft carrier this month, reports Navy Times. The pilot exchange between the US Marine Corps and the Finnish Air Force is a first for the two countries.
The Marine Corps arms itself with new technology and training to fight a well-trained urban enemy, reports USNI News.
Concerned that if a war with Russia broke out in Europe the US ground forces would be without air support for the initial weeks, the Army rolled out a plan this week to dramatically increase the range of the service's artillery and missile systems, reports Military.com.
United Technologies wins a Navy contract for support services of the F135 propulsion system on F-35 Lightning II fighter jets, reports upi.com.