Students Explore NAWCAD Careers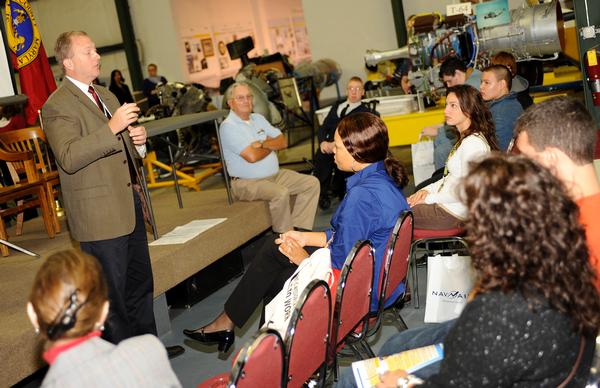 NAVAIR's Naval Air Warfare Center Aircraft Division in Patuxent River, Md., hosted its seventh annual Disability Mentoring Day Oct. 19. This event served as a unique opportunity for 11 local high school students from Calvert and St. Mary's counties to explore the sights and sounds of NAS Patuxent River while discovering future NAVAIR career opportunities.
Disability Mentoring Day emphasizes the connection between school and work and helps students evaluate their personal goals and explore possible career paths.
Dan Nega, director of NAVAIR's Aviation Readiness and Resource Analysis Department and executive champion for NAVAIR's Individuals with Disabilities Advocacy Team, gave the opening remarks, thanking the students and teachers for coming.
"NAVAIR is an organization that values everybody," Nega said. "We're here to encourage you to do well in school and do your best. We want to inspire you to take those harder classes to get a job at a place like this."
The morning began with a tour of the Patuxent River Naval Air Museum, where students also received NAVAIR career and internship literature and a free T-shirt.
Ed Forsman, photogrammetry team lead, stressed the importance of learning math and physics, which he uses in his everyday job to ensure precise aircraft air strikes.
"When I was your age, I never thought I'd be where I am today," said Forsman, who uses a wheelchair. "NAVAIR is looking to give opportunities to people who are qualified and who will work hard."
Later, students visited key locations on the base, such as the air traffic control flight tower, the manned flight simulator, the atomic physics laboratory and the cargo and special operations test facilities. The simulators were overall one of the students' favorite parts of the tour, and many of them had the chance to personally try their hands at one.
Student Philip Becknauld commented on how real the flight simulator felt. Fellow student Chris O'Shea agreed.
"The simulators were quite realistic and gave you the sense you were actually flying," O'Shea said, citing the stormy, "pitch black" weather on the screen.
Disability Mentoring Day at Patuxent River was a collaborative community effort between the NAVAIR Individuals with Disabilities Recruiting Team, the NAWCAD Equal Employment Opportunity Office, and Calvert, St. Mary's and Charles County public schools.
Nancy Danganan, NAVAIR's Disabilities program manager, concluded the day by telling students, "You caught a glimpse of things today that the average NAVAIR employee might not be aware of. We really want to reach out and help young talent before they go to college."
Similar activities and programs recognizing Disability Mentoring Day will be held across NAVAIR on Oct. 27 at Orlando, Fla., China Lake, Calif., and Point Mugu, Calif., and on Oct. 28 at Cherry Point, N.C., in an effort to promote and strengthen diversity in the workforce.
Source: NAVAIR Headquarters