Students Awarded for CSM Leadership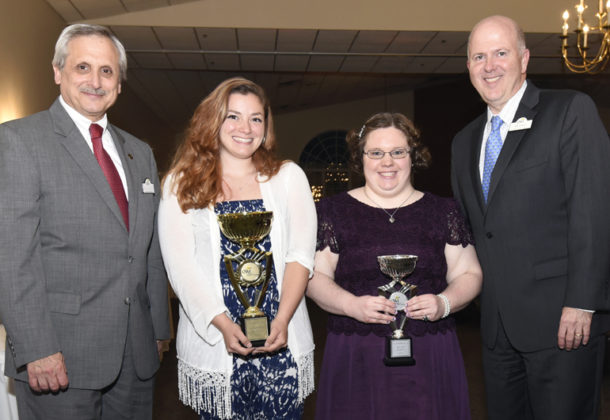 CSM President Dr. Brad Gottfried, left, and CSM Vice President of Student and Instructional Support Services Dr. Bill Comey, right, are joined by President's Cup recipient Cassandra C. Bertele of Hollywood, second from left, and Vice President's Cup recipient Kelly Hobbs of Great Mills.
Students and organizations at the College of Southern Maryland that have made lasting impacts on the campus were recognized by the college for their CSM leadership and ability to effect change within Southern Maryland during the annual Student Government Association banquet April 20 at Middleton Hall in Waldorf.
Cassandra C. Bertele of Hollywood was awarded the President's Cup for a selfless commitment to community service, including work she did in partnership with the St. Mary's County Department of Aging and Human Services to collect gifts for local children in need, volunteering for Toys for Tots, representing the college on Student Advocacy Day in Annapolis, and training through the One Love Foundation to co-facilitate a workshop to teach students about relationship violence. Ms. Bertele served on the Student Activities Committee and as an elected representative at the Leonardtown Campus Student Association.
Student Life Coordinator Jennifer VanCory said she was constantly impressed by Ms. Bertele's ability to lead and her commitment to the student body. "Her gregarious personality and skill in promoting activities has benefited the campus by doubling attendance at many Student Association events," Ms. VanCory said. "There are those who may take on leadership roles solely to further their future, receive accolades, or secure scholarships. However, this is not Cassie. What makes her exceptional is that she uses her leadership abilities to benefit others, and it's always apparent she receives genuine satisfaction from this."
Kelly Hobbs of Great Mills received the Vice President's Cup due to her work promoting mental health awareness and education for students at the college. Last fall, Ms. Hobbs planned and organized a panel discussion about suicide awareness and prevention, and in the spring semester she started a mental health club, CSM CARES, at the Prince Frederick Campus.
CSM counselor Jennifer Fossell said Ms. Hobbs is remarkable. "She deeply cares about her fellow students and the CSM community," Ms. Fossell said. "Her warmth and compassion shine through, and she seems to put people at ease wherever she goes. Second, she translates her caring into action. Organizing an event and launching a new club are both activities that require planning, organization, dedication and lots of hard work. Together, her spirit of caring combined with her ability to make things happen are a powerful force indeed. … The CSM community is so lucky to have her."
Eileen Parry of La Plata was named Student Employee of the Year Award. Ms. Parry was honored for her work as a biology and nursing tutor at the Student Success Center at the La Plata Campus. Parry helped others while simultaneously completing CSM's nursing program.
Laurie Cangelosi, Parry's supervisor, said Ms. Parry is one of the hardest working biology tutors at La Plata. "An innovator, she is able to handle a room full of diverse students, tutoring the specific biology courses they need and satisfying the students by organizing each subject at a different table," Ms. Cangelosi said. "Then she moves from table to table helping each group of students with the material they seek. Eileen earns every penny she is paid. So far this fiscal year, she conducted 536 biology and 35 nursing tutor sessions. Many tutors only have 100 tutoring sessions a year. … Eileen goes above and beyond expectations every day by tutoring such a large number of students efficiently and effectively."
The CSM Talons were named Club of the Year. The college's competitive robotics team qualified to compete at the VEX-U World Championship in Louisville, Kentucky, in April. This marked the fourth consecutive year that the team had qualified for the international event. During the event, the three-member CSM team competed against 61 qualifying university teams from around the world.
This year's Talons made it further than any previous CSM team, going all the way to the semi-finals. The CSM team also walked away with its division's Innovate award, recognizing the team with the most innovative design feature on their robot.
"Team members apply their school work in engineering, programming and physics, knowledge they learned and are currently learning, to build a competitive robot," wrote Student Life Coordinator Heather Zeolla and Director of Student Life and Athletics Michelle Ruble, when they nominated the club for the award. "They treat all teams with respect, handling competitions and matches with a level of integrity that they won't compromise on. They have truly come together as a team, club and overall friends this year. They count on each other."
In addition to the regular annual awards, this year the Student Government Association decided to recognize and honor a club adviser from a CSM campus as the CSM Student Club Adviser of the Year. The honor was given to Anna Kephart, who is the adviser of Planned Parenthood: Generation Action, a club at the La Plata Campus.
As adviser, Ms. Kephart helped the president of the club and officers through the approval process, while helping them learn the importance of compromise in leadership and how to effectively interact with the college administration and how to work together in achieving shared goals. She supported and mentored the students while giving them the autonomy to plan and carry out their goals as independently as possible. Alyssa Moffat, president of the club, said, "Anna helped us communicate our message and advocated for us on many levels in the college and community. She helped us with project management, breaking down large projects and prioritizing things efficiently."
To view photos from the SGA Banquet, visit CSM's photo sharing site.
For information on student life at CSM, visit CSM's website.
For more about the College of Southern Maryland, visit its Leader member page.