Spencer Is Trump's Nominee for NavSec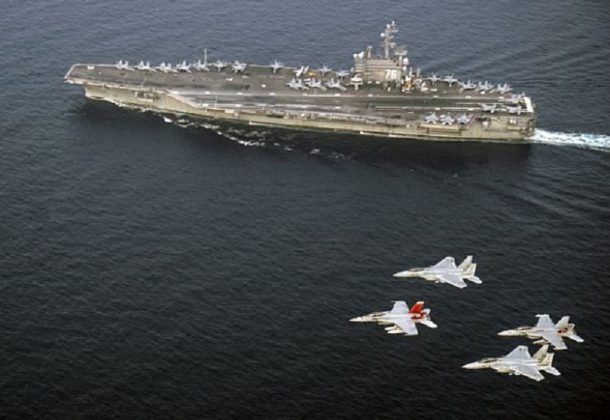 Morning Coffee is a robust blend of links to news around the Internet concerning the Naval Air Station Patuxent River

economic community. The opinions expressed here do not reflect opinions of the Leader's owners or staff.
Former financial industry executive and Marine Corps captain, Richard Spencer, is President Donald Trump's new choice for Navy secretary, reports Navy Times.
President Trump announced Monday a new program that will allow veterans in the VA system to easily transfer their medical records for more efficient care, townhall.com reports. "The VA will announce and modernize its medical records to use the same system as the Department of Defense. No more complications. The records will now be able to follow the veteran when they leave service, meaning faster, better and far better quality care," the president said.
The US Army's $12.7 billion wish list for fiscal 2018 asks to grow the total force by another 17,000 troops, increase munitions stockpiles, and modernize both brigade combat teams and vertical lift capabilities, reports Defense News. The list — known an unfunded requirements list — is sent to Congress by each of the services to help guide Capitol Hill in considering what additional funding beyond the budget request Congress might provide.
Speakers at the Shangri-La Dialogue in Singapore said they want a continuation of US Navy navigation patrols in the South China Sea, Defense News reports. Defense ministers of Australia and Japan support Defec James Mattis' assertion that the US will continue to operate in spaces allowed by international law. DefSec Mattis said at the summit regional stability was being undermined by China's program of building artificial islands and military facilities in the South China Sea, South China Morning Post reports.
Marine Corps Gen. Joe Dunford, chairman of the Joint Chiefs of Staff, received Singapore's Military Distinguished Service Order medal for his support of the US-Singaporean partnership, D0D reports.
Reuters reports North Korea rejects the latest UN sanctions against its citizens and entities as a "hostile act" and will continue its nuclear weapons development without a delay.
The Navy's Consolidated Afloat Networks and Enterprise Services is being installed on carriers, amphibious assault ships, destroyers, and submarines, and the service has completed 50 CANES systems and has 12 more in production, reports Defense Systems. The Navy is also considering the technology for its littoral combat ships. The system is designed to network ships, submarines, shore locations, and other tactical nodes in a maritime environment.
Coast Guard cutter Stratton become the first cutter to sail an entire patrol with a small UAV aboard, C4ISRNET reports. Insitu ScanEagle assisted the crew with conducting four interdictions, seizing more than 1,676 kilograms of illicit contraband valued at $55 million, and apprehending ten suspected drug traffickers, the report states.
Recreational divers have found what many believe is the wreckage of the USS Revenge that sunk off the coast of Rhode Island during the War of 1812, Navy Times reports. Last month, Navy divers recovered a cannon. It is thought that the ship became ensnared in a reef and its commander, Oliver Hazard Perry, ordered his men to jettison guns, masts and the anchor to lighten the vessel.
Madison.com says "there are fighter jets, and then there are fighter jets." Which kind you get depends on how much you want to pay. Here's an investor's guide to the top fighter jets in the world.
The Air Force is addressing how it can keep its pilots. Gen. Carlton Everhart, commander of the Air Mobility Command, has taken to social media for a solution. Gen. Everhart solicited ideas on Facebook on how the service can better retain talent. He said he received more than 600 responses relating to issues pilots face and what the USAF can do to help, Air Force Times reports.
The Trump administration's hotline for veteran complaints launched Thursday, but questions remain about the long-term plans for the new resource, reports Military Times.
Contracts:
NAVMAR Applied Sciences Corp., Warminster, Pennsylvania, is being awarded $12,527,206 for cost-plus-fixed-fee delivery order N6833517F0118 against a previously issued basic ordering agreement (N68335-14-G-0040) to provide engineering analyses, advanced intelligence, surveillance and reconnaissance sensor evaluation, and enhanced surveillance capabilities to the deployed warfighter that can be integrated into existing naval platforms to support the Special Operations Command's Special Surveillance Program activities. These efforts are in support of Small Business Innovative Research (SBIR) Phase III work that derives from, extends, or completes an effort performed under SBIR Topics N08-023 Precision High Altitude Sonobuoy Emplacement, N92-170 LADAR Identification Demonstrations, and AF083-006 Low Cost Intelligence, Surveillance and Reconnaissance, Unmanned Aerial Vehicle. Work will be performed in Tampa, Florida (20 percent); Yuma, Arizona (20 percent); Lexington Park, Maryland (15 percent); Florham Park, New Jersey (15 percent); Guthrie, Oklahoma (10 percent); Johnstown, Pennsylvania (10 percent); and Fort Lauderdale, Florida (10 percent), and is expected to be completed in June 2019. Fiscal 2016 and 2017 research, development, test and evaluation (defense-wide) funds in the amount of $60,650 will be obligated on this award, $10,650 of which will expire at the end of the current fiscal year. The Naval Air Warfare Center Aircraft Division, Lakehurst, New Jersey, is the contracting activity.
The Boeing Co., St. Louis, Missouri, is being awarded $11,601,558 for cost-plus-fixed-fee modification 01 to delivery order N0001917F1032 under previously issued against basic ordering agreement N00019-16-G-0001 for production engineering support for the installation and integration of systems required for the F/A-18 E/F and EA-18G and Electromagnetic Aircraft Launch System follow on test and evaluation. Work will be performed in Patuxent River, Maryland (75 percent); and St. Louis, Missouri (25 percent), and is expected to be completed in May 2018. Fiscal 2017 aircraft procurement (Navy) funds in the amount of $11,601,558 will be obligated at time of award, none of which will expire at the end of the fiscal year. The Naval Air Systems Command, Patuxent River, Maryland, is the contracting activity.