SoMD Teens Inspired by LEAD Camp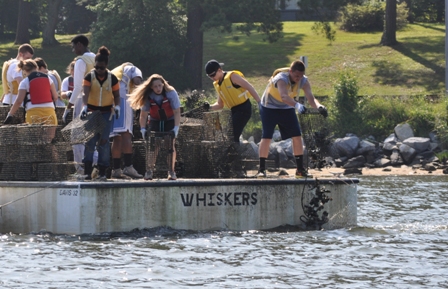 Posted by
TSA, Inc.
Pax II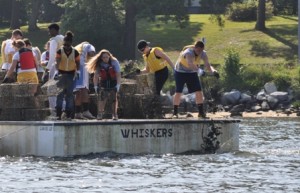 Forty-four southern Maryland teens got a leg up toward becoming effective leaders  during the fourth annual LEAD summer camp where they learned about motivation and empowerment, diversity, group dynamics, and goal setting.
LEAD 2013, a partnership between Leadership Southern Maryland (LSM) and the Maryland Leadership Workshops (MLW), is a four-day camp based at St. Mary's College of Maryland, where the teens experience campus living. Purposely paired with dorm mates from different schools and with different interests, the delegates were encouraged to connect with their peers and respect their differences.
Max Lucas, a junior at Great Mills High School, said "LEAD really helps you understand who you are and how you lead and treat others." He said he plans to apply the skills he learned as platoon leader of his school's NJROTC program. Nailah Jefferson said she was pulled out of her shyness. "The experience of LEAD was a blessing and I loved every part," she said. Ms. Jefferson, like several delegates, said the diversity training, while highly emotional, was among her favorite parts of camp. "I learned how to look on the inside of a person and not judge them based on outward appearance."
The MLW staffers are also a diverse group and are often just a few years older than the delegates, creating a comfortable and respectful environment to learn and share experiences. Twelve scholarships were supported by The Patuxent Partnership, SMECO, Lexington Park Rotary Club, Mechanicsville and Ridge Lions Clubs, and members of LSM's Class of 2013.
The teens toured Historic St. Mary's City's State House and the replica of The Dove. They learned how timeless principles of leadership are from details they heard about the life of Lord Baltimore and the early colony founded on religious freedom. They also joined staff from the St. Mary's River Watershed Association for some hands-on community service restoring the local oyster population.
Delegates divided into two groups and gave presentations on current topics. One group focused on decreasing childhood obesity, suggesting solutions including adults setting a better example, recreation centers that encourage  young people to be active and healthy, and more community events.
"It is terrific to participate alongside the delegates," said LSM Executive Director Karen Holcomb, "and truly see the program content and meaning emerge through activities and projects … not to mention the bonfires, barges and oysters!"