Solomons Will Inspire Plein Air Artists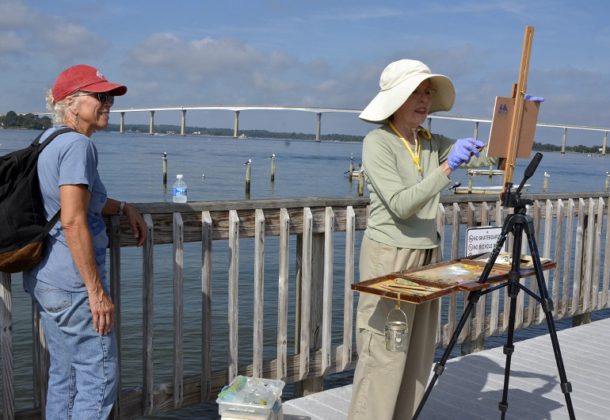 Thirty-one artists will be painting throughout Solomons in an open-air art extravaganza that will benefit students attending the College of Southern Maryland as well as other community organizations. With inspiration from the land and sea, visiting artists will capture Southern Maryland scenes on canvas during the 2016 Solomons Plein Air Festival in Solomons, MD, presented by Avian. A portion of the proceeds from the event will support the CSM Foundation's Dennis Lake Smith Art Scholarship.
The festival will feature artists, selected from a national field of 100 artist applicants, who will be painting in the Solomons area beginning Sept. 12. During the Sunset Quick Draw from 6 to 8 p.m. Sept. 14 along the Solomons Riverwalk, artists will have two hours to complete a canvas followed by judging, award, and sale of the completed pieces at 8 p.m. at the Southern Maryland Sailing Association in Solomons. The Quick Draw is open to any artist in the community, and registration is $25.
Community members also may join plein air artists from 9 a.m. to 1 p.m. Sept. 17 to "Paint the Town for A Cause" benefiting CSM and five other charities chosen by the Solomons Plein Air Festival committee. The Riverwalk will feature antique and exotic cars for artists to include in their artwork. Anyone participating will have opportunity to sell their painting, with 40 percent of the sales to benefit Patuxent Animal Welfare Society, Orphaned Wildlife Rescue Center, Sophia's Oasis for Equines, HeartFELT, the Dennis Lake Smith Memorial Art Scholarship at CSM, and the Solomons Business Association's 4th of July fireworks. As in previous years, CSM art students are anticipated to participate in the "Paint the Town for A Cause."
The festival culminates with an "Affaire of the Arts," open to the public and hosted by carmen's gallery, catered by Kingfishers and held at the Holiday Inn Solomons from 6 to 9 p.m. Sept. 17. All of the competition artists will be in attendance with the opportunity for people to meet the artists and purchase their original artwork produced during the festival.
The term "plein air" comes from the French term "en plein air" which translates as "in the open air." Well-known artists, including Claude Monet and Pierre-August Renoir, created some of their best and most famous works in this style.
For a complete schedule, sponsors, and details, click here. For information on scholarships at CSM, click here.
For more about the College of Southern Maryland, visit their Leader member page.