SMECO Reaching Out to New Members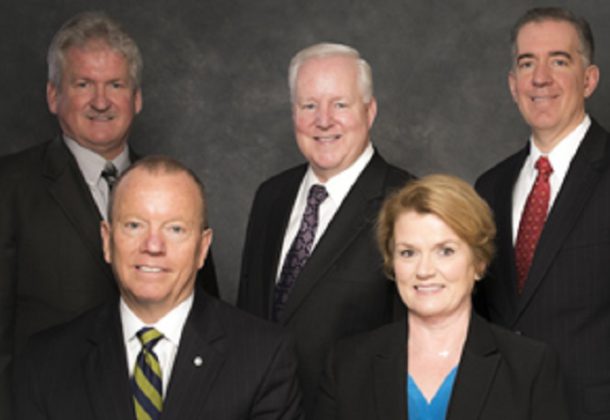 Photo Courtesy of Southern Maryland Electric Cooperative
SMECO's president and senior vice presidents. In the front row are Austin J. Slater Jr, president and CEO, left, and Sonia M. Cox. In the back row are Kenneth M. Capps, left, Mark A. MacDougall and Joseph Trentacosta.
For Southern Maryland Electric Cooperative, staying connected with customer-members means knowing who needs help. Whether the company is helping customers save energy on electric bills, or helping them get back on their feet, the cooperative difference means looking out for the members it serves.
Save energy and save money
SMECO offers many energy efficiency programs designed to help members improve the comfort and efficiency of their homes and businesses, as well as financially efficient ways to implement those changes. Members can visit the website to learn about the many savings and rebate programs available on lighting, appliances, water heaters, and more. The cooperative also launched an online store on its website that features an array of energy-efficient appliances and lights for sale in one convenient spot—with increased discounts. Products in the online store help members save an average of 60 percent off the regular price. In addition to the convenience of having all the items in one spot, all appliances featured in the online store are eligible for SMECO rebates, making it even easier to get the most out of an energy-efficient appliance purchase.
Patriot Connect
In November 2015, SMECO launched the Patriot Connect program to help veterans and active military personnel who may be having a difficult time transitioning back into the community.
Media reports indicate that there is a high incidence of post-traumatic stress disorder among returning military personnel, and it has been at the root of an increased number of suicides. Nationally, as many as 22 veterans commit suicide every day, according to the Department of Veterans Affairs.
SMECO's goal is to help someone who is suffering from a stress disorder get one step closer to a normal life. SMECO wanted to ease the burden and help smooth the transition by offering a few key services. For new customers, SMECO's customer service personnel are empowered to waive the service application fee and the customer deposit for eligible veterans and military personnel. For existing customer-members, customer service personnel may grant a payment extension to eligible veterans or active military personnel in need of assistance.
By making it easier for people with PTSD, combat stress, or related trauma to accomplish everyday tasks, the Cooperative hopes to help customer-members — people who have risked their lives in service to our country — with reintegrating into the community.
Members Helping Members
The cooperative has been managing the Members Helping Members program for six years and the support continues to grow as customer-members join together to help neighbors who are struggling to pay their electric bills. In 2015, the number of participants grew to 1,700 registered contributors, as well as members who contribute lump-sum donations. In 2015, the amount of donations surpassed $63,000.
SMECO makes it easy for its members to sign up to add $1, $5, or $10 to their SMECO electric bill every month. Each month donations are sent to the Southern Maryland Tri-County Community Action Committee, which administers the funds to those customer-members who seek aid and meet the qualifications.
For SMECO facts and financial figures, click here.
To view other sections of SMECO's annual report:
For SMECO, Members Are Core of the Cooperative click here.
SMECO Offers Customer Service at Members' Convenience. Click here.
SMECO Puts Reliability to the Test. Click here.
For more information about Southern Maryland Electric Cooperative, visit its Leader member page.