SMECO There to Lend a Hand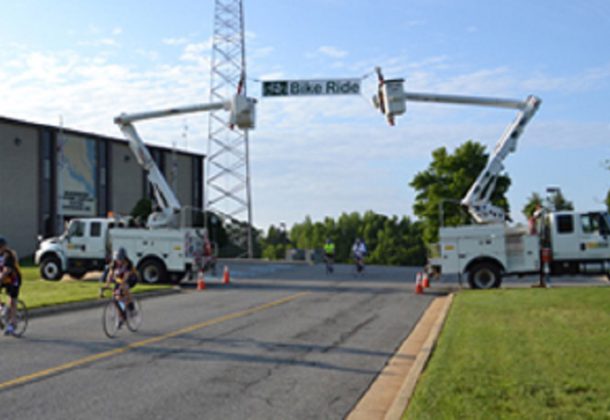 Part of the Southern Maryland Electric Cooperative difference is SMECO's concern for the community it serves. Not only is SMECO owned by its customers, but our customers are our neighbors. Our employees live just next door or down the street from our customers — the same people we work with on a daily basis to serve. A cooperative must be a good steward in its community to ensure the community's success. Looking out for the community and supporting neighbors who may need a helping hand are at the heart of good stewardship. SMECO and its employees seek to lend a hand when possible, whether that means stopping to help someone who has a disabled vehicle, supporting a community event, or hosting a fundraiser.
SMECO employees spent hundreds of hours in 2015 volunteering their time to help the local community. In addition, SMECO's annual fund-raising events — the SMECO 75 Bike Ride and the Annual Charity Golf Outing — raised $41,322 for homeless shelters in Calvert, Charles, and St. Mary's counties. The three local charities that benefitted were Safe Harbor in Calvert County; Lifestyles of Maryland, Martha's Place Transitional Home, in Charles County; and Wrapping Arms 'Round Many (WARM) in St. Mary's County. Each shelter received $13,774. Each year, the cooperative selects a different organization that will benefit from the fundraising events.
SMECO and its employees will continue to lend support to provide a helping hand to the community and to stay connected to customer-members.
For SMECO facts and financial figures, click here.
To view other sections of SMECO's annual report:
For SMECO, Members Are Core of the Cooperative click here.
SMECO Offers Customer Service at Members' Convenience. Click here.
SMECO Puts Reliability to the Test. Click here.
SMECO Reaching Out to New Members. Click here.
For more information about Southern Maryland Electric Cooperative, visit its Leader member page.