SMECO 75 Funds Donated to Local Groups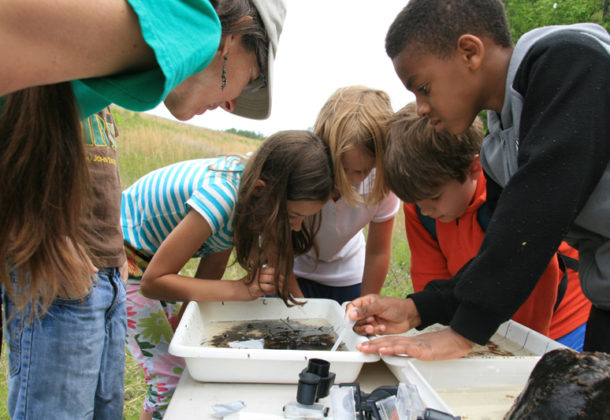 Students from the Chesapeake Public Charter School gather to identify insects in their larval stage collected from the St. Mary's River.
Employees of Southern Maryland Electric Cooperative have a lot to be proud of. Through two fund-raising efforts like the SMECO 75 Bike Ride and a golf tournament, SMECO staffers have recently donated $47,642 to non-profit organizations that help the environment in Southern Maryland.
The co-op donated $11,910 each to the American Chestnut Land Trust in Calvert County, the Port Tobacco River Conservancy in Charles County, the St. Mary's River Watershed Association in St. Mary's County, and the Alice Ferguson Foundation in Prince George's County.
The funds were raised through the SMECO 75 Bike Ride in June 2017 and the SMECO Annual Charity Golf Outing in September. Both events are supported by employee volunteers, vendors, and the executive team at SMECO. Each year, the co-op chooses different organizations each year to benefit from the fundraising events.
During five years of fund-raising efforts, SMECO employee fund-raisers have raised and contributed $215,000 to local groups. "Our employees support the organizations where they live and work, and we're privileged to be able to make a substantial contribution to groups that help support and maintain healthy ecosystems here in Southern Maryland. The assistance we receive from our supply chain partners truly makes the golf outing a successful fund-raiser," said Richard Jarboe, SMECO supply chain director.
The sixth annual bike ride was held Saturday, June 3, 2017.
"Our employees not only make the annual SMECO 75 bike ride a successful fund-raiser, but they make it entertaining and memorable for those who participate," Natalie Cotton, SMECO's community and public affairs director, said. The ACLT is dedicated to preserving the Chesapeake Bay watershed, with a focus on the Governor's Run and Parkers Creek watersheds. The organization will use the money donated by SMECO to expand land conservation education and outreach to Southern Maryland communities.
The Parkers Creek watershed covers the area that stretches from Prince Frederick to Port Republic and then to the Bay. The area is home to a variety of bird populations, reptiles and amphibians.
"We're helping residents get back to nature by maintaining miles and miles of trails for public access. And we're working to ensure that the streams and creeks that flow to the Bay remain healthy. Whether we're monitoring the water, studying bees, or assessing changes to the forest, we're undertaking research that will help us prepare for problems that may come up in the future," said Greg Bowen, executive director of ACLT. "The funds we receive from SMECO will help us institute a program to reach out to residents in other local watersheds and help them enact watershed monitoring and land conservation."
The Port Tobacco River Conservancy in Charles County will use the money to expand its outreach to students and local residents who often are not able to experience the outdoors.
"You don't have to be a scientist or an environmentalist to enjoy and appreciate the value of a flourishing habitat," said Julie Simpson, vice president of PTRC. "When we provide children with the opportunity to see and touch the plants and animals that live along the river, it sparks a sense of discovery, and a new world opens up for them. Students can then extend what they've learned to their own homes and neighborhoods. And maybe one day, they'll build their own rain garden or coordinate a community cleanup day."
Bob Lewis, executive director at the St. Mary's River Watershed Association, said the Chesapeake Bay used to have enough oysters to filter all of its waters in a matter of days.
"These days, we have to work harder to keep our waterways clean enough for oysters, fish, and wildlife to survive," Mr. Lewis said. The SMRWA works to restore habitat on the river bottom and increase the biomass of oysters in the protected upper tidal reach of the river, which is designated as a shellfish sanctuary. On the land, the organization mitigates storm water runoff to minimize the amount of polluted water that reaches the river. "SMECO's grant will allow us to expand our summer internship program, Future Bay Leaders, to more students who will learn to design and build lasting wildlife habitats and storm water control devices." He added, "We are thankful for SMECO's partnership and for their confidence in us."
In the last 60 years, the Alice Ferguson Foundation has brought thousands of students up close with nature, sustainable agricultural practices, and cultural heritage of watersheds.
"Nature is the best classroom," said AFF President and CEO Lori Arguelles. "We're privileged to help build a bridge between the natural world and the built world, which is where we live and where we face some of the biggest issues of the day around water, waste and energy." The organization's new Cafritz Environmental Center, one of just 15 fully certified Living Building Challenge structures in the world, is as a model of how the built world can strive for a net-zero impact on nature. "We installed solar power at our facility to demonstrate how it can reduce our impact on the natural world, and we are grateful for SMECO's assistance on that project and for contributing more than $47,642 to local environmental groups."
The SMECO 75 Bike Ride is open to the public and cyclists can choose from three routes of 29, 47, and 75 miles that start at the co-op's headquarters in Hughesville and go as far as Colton's Point in St. Mary's County.
The seventh annual ride is already being planned for June 2, 2018. Next year's contributions will go to hospice organizations in the region.
Cyclists can register online at Active.com beginning Jan. 1, 2018.
SMECO business partners help to raise the needed money for the organizations each year, as well. Major contributors include Adams, Jenkins and Cheatham, Booth and Associates, CGI, Cigna Health, CoBank, CW Wright Construction, ICF International, Infor, Gordon Feinblatt LLC, IP Datasystems, J.M. Tennyson Construction, Morgan Stanley, New River Electrical Corp., Penn Line, Prudential, Sensus, Utilitec, and VFP. Contributions, which may be tax deductible, can be made to the SMECO Charitable Foundation.
To learn more about SMECO, visit its Leader member page.