Only Lenny's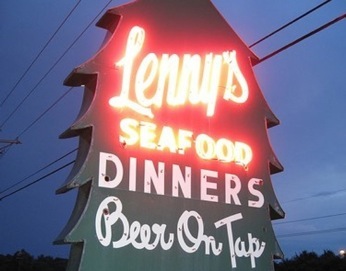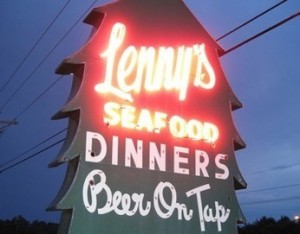 By
Tom Watts
Willows Run Office Park Leading Edge
Only the great Lenny's pine tree remains locally of the classic American roadway signs shaped like cactus or ice cream cones. These pieces of art ranked among such great Route 66 icons as diners shaped like hotdogs or a ten-story Paul Bunyan straddling entryways.
Traveling the smaller highways there are still occasional throwbacks, some small burg that zoning sign ordinances have passed by. Even major highways still hold direct descendants of the "Burma Shave" sign series that defined rural roadside advertising for nearly 40 years.
Using cornball humor by 1928, the sign-after-sign series provoked amusement nearly from the start, even after evolving into highway safety messages through to their last series in 1963.
Takes the "H" out of shave / Makes it save / Saves complexion / Saves time and money / No brush – no lather / Burma-Shave (1928)
Hardly a driver / Is now alive / Who passed / On hills / At 75 / Burma-Shave (1936)
Our fortune / Is your / Shaven face / It's our best / Advertising space / Burma-Shave (1953/1963)
Spontaneity, whimsy, creativity is needed to make a community vibrant and thriving, the very thing tamped down by rules seeking sameness and uniformity.
Will it always be everyone's idea of "pretty" when creativity runs amok? Probably not. But who determines that the uniform way established by the rules of the day is pretty to everyone either? And is pretty what we need when we're trying to save a town?
[youtube=http://www.youtube.com/watch?v=-Bh9eyvjv-E]