Service Academy Appointments Announced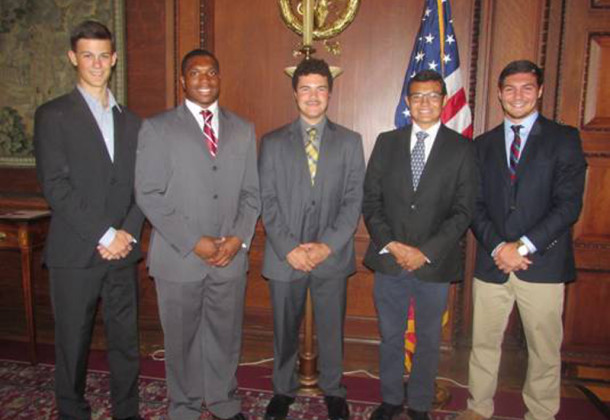 Pictured from left are Jay Wallen, Jordan Veal, Jordan Hinkle, David Escalera, and Anthony Cable. Posted for
Congressman Steny Hoyer
Congressman Steny H. Hoyer announces 12 students from Maryland's Fifth Congressional District appointed to the US Service Academies.
The students, nominated by Congressman Hoyer, have accepted offers to the Air Force Academy, the Merchant Marine Academy, the US Military Academy at West Point, and the Naval Academy.
Following an Academy Tea Reception in their honor at the Library of Congress in Washington, D.C., the Air Force Academy appointees departed to the Academy in Colorado.
"One of the greatest privileges I have as a Member of Congress is to nominate talented young people from the Fifth Congressional District to our service academies each year," said Congressman Steny Hoyer. "The students who have accepted appointments have an exciting journey ahead of them, and I have no doubt that their time at the academies will prepare them to do great things in the future. I am confident that they will represent the Fifth District and the state of Maryland with honor and distinction for years to come."
The following Fifth District students received appointments:
Air Force Academy
Kolbi Holmes,
St. Mary's County, St. Mary's Ryken High School
Kathryn Kampsen,
Calvert County, Northern High School
Mai-Lin Quinto,
Charles County, Lackey High School
Merchant Marine Academy
Joseph Springer,
Prince George's County, Archbishop Spalding High School
Naval Academy
Anthony Cable,
Charles County, La Plata High School
John Caniban,
St. Mary's County, St. Mary's Ryken High School
David Escalera,
Anne Arundel County, South River High School
Jordan Hinkle,
Prince George's County, Bishop McNamara High School
Jay Wallen,
Prince George's County, Rockbridge Academy
West Point
Jade Jamison,
Charles County, Westlake High School
Sean Poiani,
Prince George's County, Archbishop Spalding High School
Jordan Veal,
Prince George's County, Bowie High School