Senators Hopeful; Seek Sequester Flexibility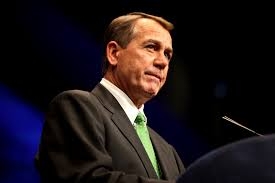 Morning Coffee is a robust blend of links to news around the internet concerning the Naval Air Station Patuxent River economic community. The opinions expressed here do not necessarily reflect those of the Leader's owners or staff.

The Senators thought they  had a budget bill in hand when Tuesday morning began. As the day progressed they learned House Speaker John Boehner sought to present the House with a budget Democrats would not support, reported Politico. It became clear by afternoon that the Speaker could not muster support from conservative Republicans that he needed, reported Politico. By the end of the evening Senate leaders were finalizing a bill, Political updated, and some were expressing hope that a government default will be averted.
The Senate  wants sequester flexibility, included in the bill to reopen government, military leaders have "begged for" this sequestration provision, reports Defense Daily.
The Marine Corps Marathon will be cancelled if the government doesn't reopen next week, reports Navy Times.
Government IT budgets keep falling and current crises aren't helping, reports FCW. Nevertheless, the federal government will need 10,000 cybersecurity experts soon and the US Cyber Command will need 5,000 and Homeland Security needs 600 right now, FCW says.
A tech and security think tank is encouraging defense contractors to consider open source software as the key to ultimately making more "rent" on their products than sale of a single, proprietary system, reports Breaking Defense.
A Mayo clinic infectious disease expert says the Center for Disease Control also fights "hostile threats" and is as essential to national security as the military, reports GovExec.
The Navy and Marines are conducting a voluntary anonymous survey to address sexual assault, reports Navy Times. The survey is online here. The password is "2013Survey" and it will be open until Jan. 6, 2014.
Some Reserve training has been discontinued as a result of the government shutdown, but not training for deployment which continues, reports Defense.gov. Naval aviator training is to resume, reports Defense Daily. (Paywall.)
After Boeing's fighter jet failed to win the big buy from South Korea, the company is looking for a smaller sale in a potential buy of Boeing's Silent Eagle and Lockheed's F-35, reports Aviation Week. US spying on Brazil is souring Boeing's sales in that country, reports Defence Talk.