Scholarship Benefits Jude House Clients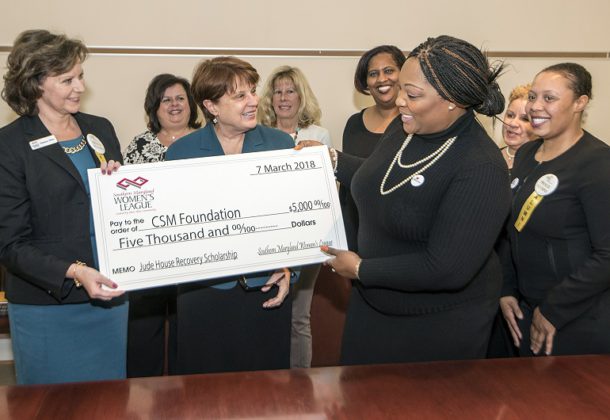 The Jude House Recovery Scholarship Fund has been established at the College of Southern Maryland with the Southern Maryland Women's League providing the $5,000 initial funding to make the scholarship possible. Celebrating the scholarship being established are front, from left, SMWL President and CSM alum Suzanne Wible, CSM President Dr. Maureen Murphy, and Jude House Executive Director Dr. Roshonda D. Contee, Jude House Operations and Director Janice Ford, and back row from left, SMWL member and Jude House board member Tammy Semega, Jude House Board President Debra Prohaska, Jude House St. Mary's Clinical Coordinator and CSM 2015 alum Jameika Butler and Jude House Residential Clinical Coordinator Pamela Neal-Robinson.
The Jude House Recovery Scholarship Fund has been established at the College of Southern Maryland with the Southern Maryland Women's League providing the $5,000 initial funding to make the scholarship possible.
The new fund will benefit current and recent clients of The Jude House, a long-term residential and outpatient substance abuse treatment facility that serves Southern Maryland. The fund is an example of a good idea catching on — providing extra assistance to those overcoming challenges.
"The idea behind this scholarship is consistent with our mission," CSM President Maureen Murphy said. "The college is here to provide opportunities for people who want it. We're the college of second chances and third chances."
The push for the scholarship came from Tammy Semega, both a SMWL member and a member of The Jude House Board. Semega heard about CSM's scholarship that was established last year for another area program that assists those dealing with substance abuse, a scholarship to assist graduates of St. Mary's County Adult Substance Abuse Recovery Court (SARC) program.
Ms. Semega wanted the same opportunity for Jude House clients, and she worked with CSM's Advancement Division to make it happen.
The SMWL already had a relationship with The Jude House since the nonprofit was selected as SMWL's two-year grant recipient. In addition to providing the initial funding for the CSM scholarship, the SMWL has assisted with needs for housing and the day-to-day needs for female clients in the program. SMWL President Suzanne Wible, also a graduate of CSM, said that Ms. Semega's scholarship idea was a perfect fit for the organization's goals.
"When I was growing up I was not qualified for scholarships and struggled to pay my way through college," Ms. Wible said. "Due to that experience, I am very passionate about scholarship programs and giving people the opportunity to continue their education and enhance their personal skills. CSM has grown to be the perfect avenue for this as they are a diverse institution that allows people of all walks of life to continue their education with a wide range of options."
Ms. Semega said the scholarship enables Jude House residents to "not only leave the Jude House clean and ready to get back out into the real world, but they gain a skill that will assist in getting a job. It is a win-win situation. … Everyone deserves a second chance, and we are helping by providing addiction rehabilitation and the start of an educational path."
The newly established Jude House Recovery Scholarship Fund will provide financial assistance for tuition, fees, books and other related supplies to CSM students enrolled in an academic program, career training program or GED program who meet the qualifications. To be eligible, the candidate must be a current Jude House client that is in good standing of the Jude House Recovery Program or a previous client that complete Jude House treatment program successfully within the application year. Applicants must reside in Southern Maryland. The scholarship will be awarded per semester and may be renewable for multiple semesters. Applicants for the scholarship will be recommended to the CSM Foundation Scholarship Committee by the Jude House Board of Directors.
Dr. Roshonda D. Contee, executive director of The Jude House, said the scholarship is another valuable tool for clients, noting that statistics show that drug treatment alone will not sustain abstinence. "The increase in education advancement, consistent employment, and an increase in self-esteem will provide enough momentum for clients to achieve and maintain recovery. … With a scholarship opportunity, Jude House clients will be afforded a college education, entrance into a new career, and a chance to become productive members of society
"I am so grateful for all the people in this room who look to give people a second chance," Dr. Contee said at the signing. "It's just phenomenal and goes beyond words. Your actions speak louder than words. So many are thrown to the wayside and see no room for growth and change. [You] are a group of people that see a need and act on it."
"I never envisioned this," Jude House Board President Debra Prohaska said at the signing. "Treatment is not [just] a process of 28 or 30 days. We're going to help these individuals work on their addictions and triggers, and now through this scholarship, they will be able to go to college."
"We appreciate the leadership and support of our dedicated board of directors, specifically Tammy Semega, and the Southern Maryland's Women's League for being visionaries for this opportunity and for bringing this to reality. We also greatly appreciate the leadership and partnership of Dr. Maureen Murphy, president of the College of Southern Maryland, who was a key stakeholder in bringing this to fruition," Dr. Contee said.
Two Jude House clients have already expressed interest in the new scholarship. The community can support the scholarship fund through gifts that can be made in memory or honor of people and through matches.
The Jude House is a medium-high and high-intensity long-term residential and outpatient substance use treatment facility located in Bel Alton. The Jude House provides individual and group substance abuse counseling; individual and group behavioral health and mental hygiene therapy to those clients who are diagnosed with co-occurring disorders. A residential stay is a minimum of four months, but treatment can be required for as long as a year and is based on the individual needs of the client. In addition to counseling, the Jude House assists with identifying stable and safe housing for those who will need it upon completion of treatment, offers job readiness training, and possible job placement for some. Qualifying clients also can participate in parenting classes, trauma and grief/loss counseling, receive literacy assistance, and be connected to community self-help groups.
For information about The Jude House, call 301-932-0700 or visit its website. For information about the Southern Maryland Women's League, visit its website. For information about establishing a scholarship at CSM or donating toward an established fund, call 301-934-7649 or click here. For photos from the event, visit the college's website.
For more about the College of Southern Maryland, visit its Leader member page.