Sailor's Quick Action Helps Save a Life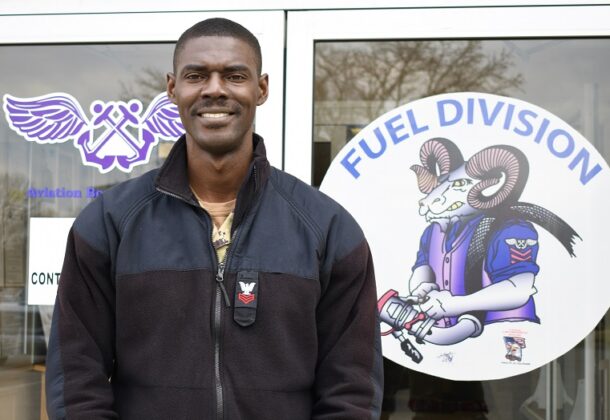 Aviation Boatswain's Mate (Fuel) 1st Class Charles Osei Yeboah
A member of Naval Supply Systems Command Fleet Logistics Center Fuels Division at Patuxent River assisted in saving a man in Lexington Park when a library patron suddenly lost consciousness.
Aviation Boatswain's Mate (Fuel) 1st Class Charles Osei Yeboah was in the Lexington Park Library early last month studying for the Medical College Admission Test when he noticed someone in distress.
"After being in the Lexington Park Library for approximately 45 minutes reviewing my MCAT notes, I noticed a young man in his late 20s or early 30s lost consciousness abruptly," Mr. Yeboah said. "He began presenting dyspnea or shortness of breath, clenching of hands, and suddenly became completely unresponsive irrespective of trying to wake him. His entire face began turning blue."
Mr. Yeboah quickly jumped into action, yelling for staff to call 911 while checking the young man for vital signs. He observed the victim's carotid pulse was present, but weak, and had irregular breathing. Mr. Yeboah checked the man's airway to see if it was blocked, and seeing nothing, got him off his chair and on the floor with the help of a librarian.
"When he began shaking, clenching his fists, and looking blue, the library provided Narcan which was administered," Mr. Yeboah said. "A second dose was administered after a few minutes. At this point his eye started twitching like it wanted to open. EMT then arrived and provided oxygen to him. He gained full consciousness after five minutes of oxygen supply."
EMTs acknowledged the fast action of Mr. Yeboah and library staff, who provided crucial aid in the first few minutes of the medical emergency.
"The EMTs were grateful that we took all first aid necessary steps to sustain his life before they arrived on the scene," Mr. Yeboah said. "It feels great to be in a position to save a life. Knowing that he will be able to meet his family again."
Mr. Yeboah is no stranger to working under pressure. As the leading petty officer of the Fuels Division at NAS Pax River, he is responsible for the daily operation and maintenance of the fuel farm at Pax and ensuring that all safety procedures are followed during fueling operations and the handling of volatile propellants.
"Of all the ABF1s I've seen come through here in the past three or four years, he's been the best one yet," said Tony Ramirez, fuels director at Pax River. "I'm not surprised that he was able to save a life, I'm just glad that he was there to help that young man. He's qualified to operate an AED and perform CPR. He was ready."
NAVSUP FLC is the Navy's oldest and largest Fleet Logistics center, with a command footprint that includes global logistics support to 37 naval installations including Patuxent River.