Sailor's Folk Art Returns to Annmarie Garden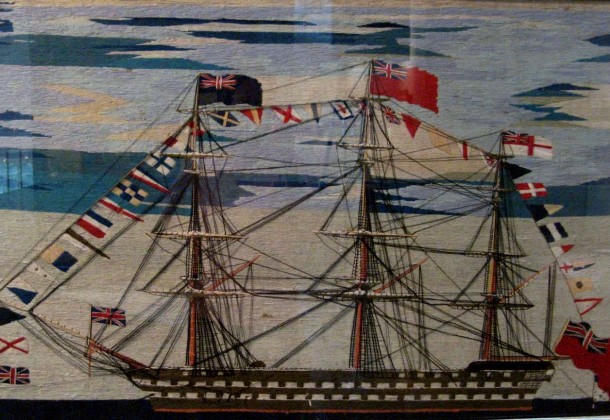 Posted for
Annmarie Sculpture Garden and Art Center
Community Builder
A spectacular collection of sailor's folk art, called "woolies" will be exhibited at Annmarie Sculpture Garden & Art Center from May 23, 2014 to January 25, 2015 in the Mezzanine Gallery.
The collection was last exhibited at Annmarie in 2008, and returns for a special encore exhibition as part of the many festivities planned in Southern Maryland for the Bicentennial of the War of 1812. The public is invited to attend a special Annmarie After Hours Opening for the exhibit on Friday, May 23, 2014, 6-9pm.  Reservations are not required to attend the opening.
The exhibit, titled Sailor Made: Return of the Woolies, consists of more than fifty framed woolies on loan from Donald Berezoski, a resident of Naples, Florida, and long-time woolie collector.  Like scrimshaws, woolies were created by sailors, mostly British, during their long months at sea and appear to have been gifts for family members.  The height of woolie production was 1840 to the 1880s, with the advent of photography leading to their decline in popularity.  Typically, a woolie portrays the sailor's ship, or another ship they encountered during their travels.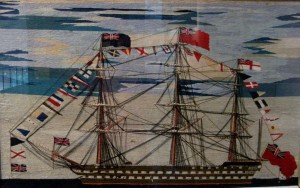 Included in this exhibition are a number of rare woolies that show several ports-of-call, people, animals, lighthouses, and other images. Woolies were created using materials readily available to sailors – canvas, wool, thread, and nails – and used sewing skills they developed on the job repairing the sails and their uniforms.  Perhaps using a piece of canvas from a torn sail, the sailor would have created a design.  Common embroidery stitches were then used to bring the design to life.
This exhibition includes woolies with rare embellishments, including silk thread, copper, wire, and mica.  The detailed needlework, like the ship's rigging, is wonderful to behold and is astounding when one considers the conditions under which these beautiful works of art were created.  To fully appreciate this collection, one must carefully study the use of color and types of stitches, such as long, short, chain and cross stitch, as well as the inventive way of adding interest to the works. One stitch technique called trapunto, makes the sails appear to billow in the wind.  Like other types of folk art, the works by these self-taught artists beautifully communicates details of their lives, including great historical moments at sea, as well as the simple things sailors missed by choosing a life at sea.
For those who are interested in learning more about this charming folk art, a free Gallery Talk & Tour led by Mr. Berezoski, will be held on Sunday, August 3, 2-4pm.  The Gallery Talk & Tour is free; reservations are not required to attend.