Sabre Continues STEM Scholarships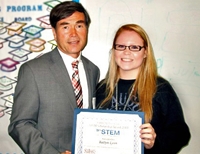 Posted by
Sabre Systems, Inc.
Pax Leader  
Encouraged by the success of Sabre's STEM Scholarship program launched last school year, Glen Ives, Group Vice President of the Mid-Atlantic Region, said the firm will be continuing the scholarship awards this academic year.
The Sabre STEM scholarship program was launched earlier in 2013 to help steer students into the science, technology, engineering, and math curriculum by helping reduce the financial barriers to attend college.  Sabre last year awarded a total of six $1,000 non-renewable scholarships to deserving students in locations where the company has a major presence.
Last year, two students from Southern Maryland went to college on Sabre STEM scholarships:  Amanda Carroll of Prince Frederick, Md., a graduate of St. Mary's Ryken High School, headed to Virginia Tech; and  Katlyn Lyon of  St. Mary's County, Md., a graduate of Leonardtown High School, headed to Stevenson University.
These direct scholarships are part of Sabre Systems' proactive approach to developing a growing pool of STEM graduates to fill the technology and engineering needs of the immediate future and beyond.
Science, technology, engineering and math are considered the pivotal fields for the United States to maintain its global technological and engineering prominence and to assure the nation's and the world's security.
Sabre Systems, Inc. is a mid-sized, global solutions provider that offers engineering, software development, information technology, statistical programs, logistics, and program management support to U.S. defense and civilian agencies and commercial clients. Founded in 1989, the company's headquarters is located in Warrington, Pa. Offices are maintained in Virginia, Maryland, New Jersey, and Indiana.
Sabre is Capability Maturity Model Integration (CMMI) ® Maturity Level 3 (ML3) rated by the Carnegie Mellon Software Engineering Institute and ISO 9001:2008 certified.  For more information, visit www.sabresystems.com.