S. Korean Robot Wins US DARPA Challenge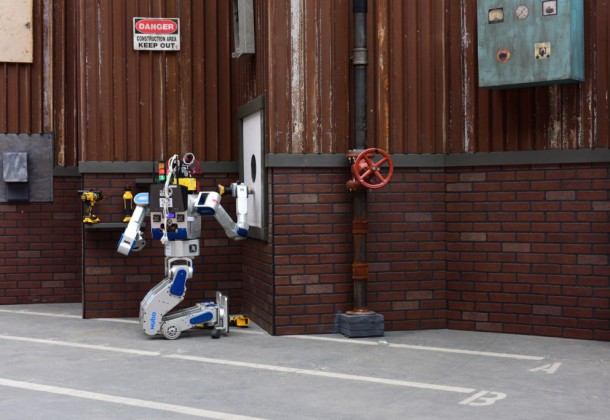 Team Kaist's robot DRC-Hubo uses a tool to cut a hole in a wall during the DARPA Robotics Challenge Finals, June 5-6, 2015, in Pomona, Calif. Team Kaist won the top prize at the competition. DARPA photo
Morning Coffee is a robust blend of links to news around the internet concerning the Naval Air Station Patuxent River economic community. The opinions expressed here do not necessarily reflect those of the Leader's owners or staff.

Robots from Pensacola, FL and Pittsburgh take silver and bronze; South Korea took first prize in last week's Defense Advanced Research Projects Agency's robotic challenge, reports Defense.gov from Pomona, CA,
The Syrian Electronic Army breached the Army's website Tuesday with content that included, "Your commanders admit they are training the people they have sent you to die fighting." The site was taken down temporarily and no data breach was announced, reports The Hill.
Breaking Defense reports, Navy Secretary Ray Mabus' recommends "pure overhead" cuts, which include "testing," to preserve the fighting force from budget reductions.
As US and NATO seek to reassure Eastern European allies, Baltops, a huge training exercise, launched this week, to run through June 20, involving 2,000 US troops and take place in Poland, Sweden, Germany and the Baltic Sea, reports The Hill.
Need to know if  your federal data was part of the security breach announced last week? Here's the latest from the Office of Personnel Management.
On the heels of DefSec Ash Carter's concerns about shrinking European defense budgets, Defense News, this week reports, Britain's defense secretary  anticipates a $763.1 million defense cut (£500 million), substantially less than an original Treasury recommendation of nearly double that amount.
Civilians and military members may apply to become a member of a NAVAIR diversity advisory team, reports Military.com, deadline to apply is June 26.
Control your GoPro drone camera from your wrist, due on the market the first half of 2016, says Zacks.com.
The Tester provides specifics of suspicious, potentially terrorist-related crime: what to look for and what to report, as part of the national "See Something, Say Something" campaign.