Robotics Can't Start Too Soon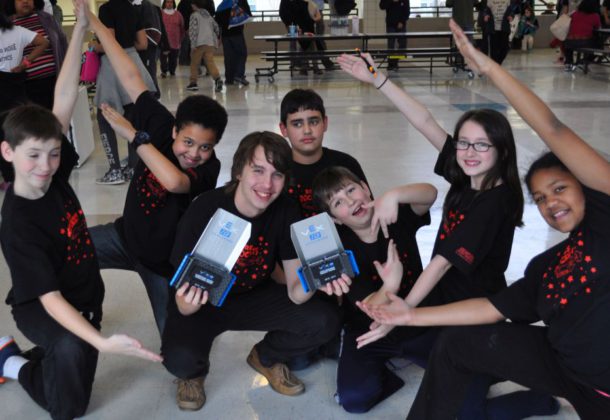 Connor Tomasic, Isaiah Wade, Coach David Cannavo, Luis Quinones, Matthew Krawczyk, Grace Anderson, and Jasemine Edison.
Robots can develop STEM skills from pre-K classrooms through high school, according to the RES Rockets, one of the top aspiring clubs in the growing universe of robotics competition. "Even college," says one of the six Rockets at a recent encounter with a video cam in the Ridge Elementary School media center, where the club meets.
Not to give away their program in advance of the upcoming competitive season, suffice it to say these elementary schoolers believe their after-school robotics activities would benefit the math and programming skills of every student from the youngest to the eldest. And they're working on putting pay to their claim.
The team's project addresses the traditional method of focusing on high school students to increase college enrollment in STEM career paths. According to the Rockets, the focus needs to begin earlier … much earlier. "The STEM pipeline has many leaks," said a team member as he pointed to a graphic on their STEM poster board. "The problem is where the pipeline begins … high school. If you want to fix the leaks you need to look at the pipeline where it really starts … in elementary school. This is when students are forming opinions about themselves and their abilities to do science and math."
Consider cellphones, video games, and other technology, often students provide tech support to their parents when a problem arises. They've played with this technology since they were old enough to hold a phone or controller. Same with educational technology, give them a robot and iPad in first grade and they will have that thing buzzing along before class is over. Continue to challenge them with more advanced systems and software as they progress through school and they will be not only be proficient, they will be confident.
The Rockets say self-confidence is the key to students selecting the more challenging math and science courses in middle and high school. According to one team member, "Lots of kids don't like math and science because they don't think they're good at it. They don't take the hard classes because they think they won't pass. If you teach them they are smart and can do when they are in elementary school, then they will know they can do it and will take STEM classes."
An expanding demand and a growing imperative for STEM education — science, technology, engineering, and math — continues to  garner national attention. Few communities draw so heavily upon those disciplines as Patuxent River, MD, which is reflected in offerings from the surrounding colleges. In addition to many STEM degree paths, the College of Southern Maryland encourages early pre-college STEM experiences including hosting robotics programs for all grade levels, and the VEX IQ program. The VEX competitions allow Southern Maryland teams to advance to the VRC World Championship, or, as the RES Rockets know it, "World," spoken in a tone of unadorned enthusiasm and awe.
Despite their youth, the RES Rockets know a great deal about robots. As of the middle of February:
The RES Rockets hold the top elementary score in Skills Challenge (combination of programming skills and driver skills scores) in Maryland. In addition to achieving their modest goal of "excellence" at their first two tournaments, they nabbed the STEM Award at the CSM Championship as well. The team's next stop is the Maryland State Championship on Feb. 25.
The CSM robotics program is among numerous STEM efforts supported by The Patuxent Partnership.
About The Patuxent Partnership
The Patuxent Partnership works with government, industry, and academia on initiatives in science and technology, hosts programs of interest to NAVAIR and the broader DoD community, and supports workforce development including education initiatives and professional development. Call 301-866-1739.
To learn more about The Patuxent Partnership and its programs, visit its Leader member page.