A Rapidly Changing Future Requires Adaptive Leadership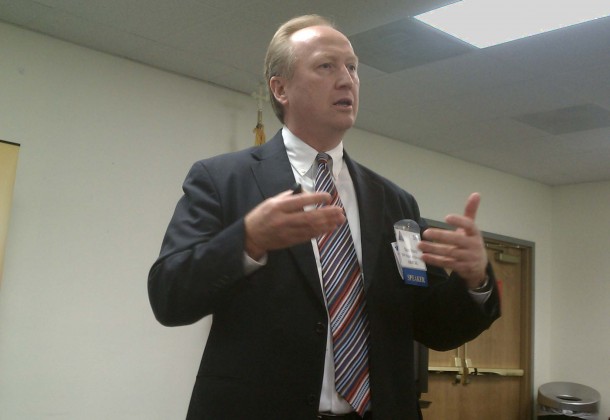 By Jay Friess
Editor
The Naval Air Systems Command is trying to plan decades ahead while saddled with a procurement system that can take decades to move.
Nothing in the future is certain, but military planners are confident of one thing – big, disruptive changes are coming, and they will be coming faster and faster, according to Dale Moore, Director for Strategic Initiative Coordination and Execution at NAVAIR.
Moore was speaking Thursday at the second Brown Bag Lunch program sponsored by The Patuxent Partnership and hosted at the Wyle Conference Center in Lexington Park, Maryland.
"These are not sequential [programs], but they do build on each other," said Scott Sanders of Wyle, who introduced Moore. He noted that 75 percent of the audience appeared to be new.
"I really want to synergize the community with what's going on on the base," Moore said, noting that NAVAIR is attempting to get its leaders and managers to think in more flexible, dynamic and nonlinear ways.
"It's important to think that way, or else you're locked into your current paradigm," Moore said. "Traditionally, there's a 'right here, right now' mentality in organizations. … Most of the changes are mostly incremental and linear."
Moore said that the Army War College has characterized the future strategic environment as "volatile, uncertain, complex and ambiguous." The pace of technological development is happening in faster and faster cycles and could reach a "singularity" in approximately 2040, where the chaos of constant change outpaces the ability to plan for it.
"Can we see past Joint Strike Fighter?" Moore asked. "So much is going on with Joint Strike Fighter. What is beyond that? … It's really hard to see beyond."
The fundamental requirements for the aircraft and weapons of tomorrow are being drafted right now, decades in advance, he said.
"If it takes you 20 years to develop something, you need to be thinking ahead," Moore said. "We better get it right up front."
NAVAIR's leadership and its industrial partners must prepare themselves to adapt rapidly to change, Moore said, learning to sift incoming data for predictive signals.
"We're overwhelmed with data, but what's it tell us?" he asked. "What does it mean?"
In order to keep the organization nimble, NAVAIR is working to create a culture of lifelong learning. Moore said the command is looking to replicate the success of its testing and evaluation university program across disciplines over the entire command. He said the command is also talking with the public school system to add an artistic component to the Science Technology Engineering and Math program to encourage nonlinear thinking.
"We're thinking about changing from 'STEM' to 'STEAM' to incorporate the arts," Moore said.
Moore made it clear that the command and the community are now facing global competition for supremacy.
"This isn't a St. Mary's County thing; this is a national thing; this is the global environment," he said.