Raising Awareness of River's Health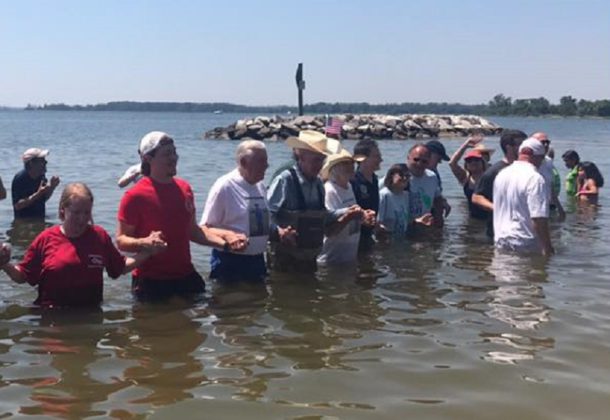 Congressman Steny H. Hoyer, again this year, waded into the Patuxent River alongside former Maryland state senator Bernie Fowler at Mr. Fowler's annual Wade-In. Mr. Fowler holds the wade-in each year to see how far into the water he can walk before he can no longer see his white sneakers, a non-scientific measurement he calls the "sneaker index." The informal index brings awareness to improving the health of the Patuxent River and the Chesapeake Bay.
"For the last half century, Bernie Fowler has been one of Southern Maryland's biggest champions, and has worked hard to clean up the Patuxent River and the Chesapeake Bay," said Congressman Hoyer (D-Md., 5th) after the June 11 event at Jefferson Patterson Park in St Leonard. "I was pleased to join Bernie, my fellow elected officials, and members of the community today to raise awareness of the importance of the health of Chesapeake Bay and its tributaries, including the Patuxent River."
The congressman said the fight must continue against efforts to eliminate funding to clean up the Chesapeake Bay.
"The health of the bay and the Patuxent River, the only tributary that flows entirely through Maryland, is central to our local economy. A cleaner Chesapeake Bay remains an important part of my work in Congress, and I look forward to coming back to the shores of the Patuxent River next year with Bernie and our community," the congressman said.
Mr. Fowler held the first Patuxent River Wade-In in 1988. This year's index was measured at 41.5 inches. Last year, the index was measured at 31 inches.
The overall health of Chesapeake Bay improved in 2016, a positive sign that recovery efforts are working. The largest estuary in the nation scored a C grade (54 percent) in the 2016 report card, one of the highest scores calculated by scientists at the University of Maryland Center for Environmental Science. In addition, fish populations greatly improved to an A (90 percent). Scientists are encouraged by these improvements in health despite many pressures on the Chesapeake Bay and across the watershed.
Follow Congressman Hoyer on Facebook and Twitter.
For more information about House Democratic Whip Steny H. Hoyer, visit his Leader member page.