Protecting the Pax Mission and Preserving the Land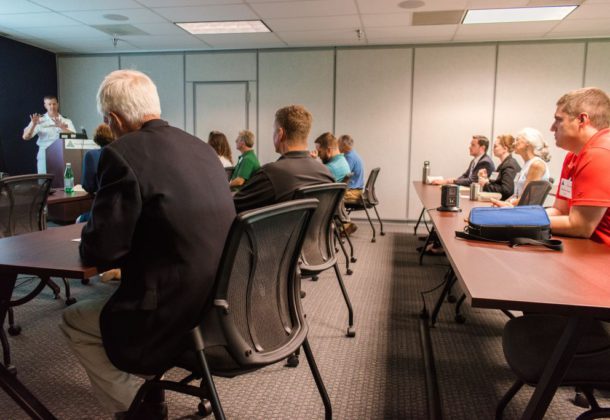 What might seem like an unusual partnership is preserving the rural character of the Chesapeake Bay watershed in Southern Maryland while cementing the region's position as a hub for Navy technology research, development, and test, said NAS Patuxent River Commanding Officer Capt. Jason Hammond at the opening to a July 18, 2018, Patuxent Partnership briefing, "Protecting the Pax Mission and Preserving the Land."
In the mid-Atlantic region, the Navy has a vested interest in minimizing development that would impede testing and training operations. The Atlantic Test Ranges (ATR), located at Pax River, covers over 2,700 square miles of restricted airspace from surface up to 85,000 feet, spanning parts of the Chesapeake Bay, Maryland, Delaware, and Virginia. Every major Navy aircraft platform conducts flight testing at ATR.
"If you don't have this – in that restricted area, that size, where it is, the proximity for the fuel management – we simply can't do what we do," said Capt. Hammond. "We can talk all day long, we can produce technology in laboratories, but if we can't get it on an airplane and put it in a region where it can be tested, we simply can't do our jobs."
Some of the test range's targeted areas overlap hazard and noise zones associated with the Naval Support Facility Dahlgren, Virginia, and Naval Support Facility Indian Head in Charles County, Maryland.
All three installations house unique labs and capabilities for Navy research, development, and test.
"The land and the waterways that are below [the test ranges] are economically and ecologically essential to the welfare of the region," said Capt. Hammond, speaking about the area, which is designated as the Middle Chesapeake Sentinel Landscape. "It's working natural lands that are important to national defense."
The Department of Defense Readiness and Environmental Protection Integration (REPI) program allows military installations to enter cost-sharing partnerships with local and state governments and private conservation organizations to ensure compatible land use.
"Striking the balance between the mission and environmental stewardship is absolutely critical," said Capt. Hammond. "We've used the REPI program extremely effectively."
"The goal of REPI is to put property into a conservation easement for perpetuity. So we're not buying the whole property; we're just buying the future development rights," said Lynne Keenan, community planning liaison for Naval Support Activity South Potomac, the host command for NSF Dahlgren and NSF Indian Head.
"The goal is we're not going to have a strip mall or a thousand homes right on the river right under an air range or an ordnance range, where we're doing active military testing," said Ms. Keenan. "We're trying to buy up those development rights and keep it in the natural state."
In Southern Maryland alone, 11 parcels of land amounting to over 2,000 acres have been preserved through REPI. The parcels are not all contiguous, which is not essential – as it turns out – nor is it the goal.
"No, we're not buying the entire Eastern Shore," said Capt. Hammond. "But the impact is great. In protecting [some areas], it makes it less and less likely that the things we don't want done with that land is done; the wetlands are protected."
"You have to have a willing landowner; it can be a private landowner," said Sabrina Hecht, community planning liaison for NAS Patuxent River. "These landowners can still farm their land, it could be agricultural, could be forested, maybe some light recreation, but we get to make sure it protects the mission."
The Patuxent Tidewater Land Trust (PTLT) acquires land and conservation easements through purchase or donation. To date, the trust has conserved more than 5,000 acres of land.
"This area has a lot of resources deserving of protection," said Andrew Garte, executive director of the Patuxent Tidewater Land Trust.
The PTLT became instrumental, particularly in St. Mary's County, in locating desirable tracts where owners seek to keep the land in perpetual agricultural or forest use, both compatible uses for the Navy. The nonprofit land trust facilitates the purchase of the property for resource preservation by leveraging funds from military and government partners.
"We are a force multiplier," explained David Moulton, a member of the PTLT board of directors.
A recent success in the opening of the 163-acre Snow Hill Park on the Patuxent River with a public beach and waterfront access. The purchase of the former farm provided an opportunity to create a public recreational area on the water.
"The farm was located beneath the Atlantic Test Ranges; it was actually in our new helicopter operating area which had recently gotten expanded, so we were allowed to put the REPI funds towards that," said Ms. Hecht, noting that it made 1,700 feet of shoreline available for public use. "This was such a win-win."
The unique alignment of goals in preventing encroachment has resulted in impressive results for all partners.
"We're one of the smallest regions," added Gail Kenson, [Naval District Washington], who attended the briefing. "We're six installations and we have 12 percent of the [REPI] program, which considering some of the regions [nationwide] have in excess of 20 installations … for small guys we get a lion's share."
"It's important to understand, to put very simply, how rare it is to have something like this that is so mutually beneficial," Capt. Hammond said of the partnership between the Navy, county government, and conservation organizations like the Patuxent Tidewater Land Trust.
"The minute something is incompatible in that area and starts limiting what we do we frankly limit our ability to develop capability for our nation," said Capt. Hammond. "What you're doing through the trust, through REPI, […] you're accomplishing something that is critical to the most important natural resources we have and to the defense of our nation. Every acre matters to this mission."
About The Patuxent Partnership
TPP fosters collaboration and the sharing of knowledge and expertise across a diverse network that includes government, industry, and academia. TPP also supports STEM education and workforce development within the local community including hosting programs of interest to NAVAIR, NAWCAD, and the broader DoD community.
To learn more about The Patuxent Partnership and its programs, visit its Leader member page.