Progress Swift on JSF Takeoff, Landing Testing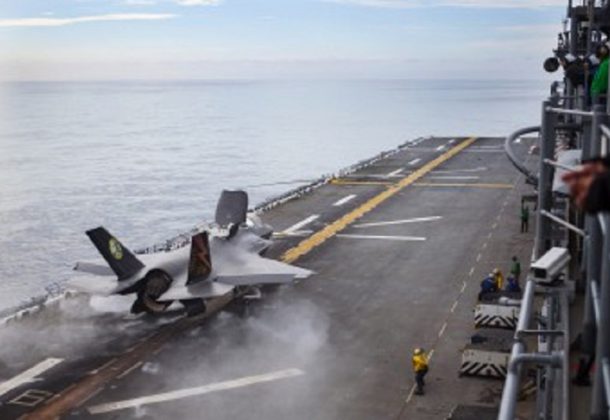 Morning Coffee is a robust blend of links to news around the Internet concerning the Naval Air Station Patuxent River

economic community. The opinions expressed here do not reflect opinions of the Leader's owners or staff.
Progress has been quick on extensive preparations on board amphibious assault ships for short takeoffs and landings of the F-35B Joint Strike Fighter, The National Interest reports. This will ensure that the ships' flight decks, sensors, and weapons systems can accommodate the first-ever deployment of the fighter jet set for 2018.
New tactics for new capabilities. Second Line of Defense reports from the Integrated Training Center at Naval Air Station Jacksonville on the transition from the P-3 to the P-8/Triton.
Baltic Saber Strike has been launched in Europe, MSN reports. The exercise has the US Army participating with more than 4,000 troops from NATO and 10,000 soldiers from 13 countries across Eastern Europe. It will run in conjunction with the US-led Dragoon Ride, which will take 400 armored vehicles from Germany, through the Czech Republic, before moving on to Poland, Lithuania, Latvia, and Estonia before the end of June.
Defense News reports three current and former US Navy officers have been charged in federal court for their roles in the Glenn Defense Marine Asia investigation, also known as the Fat Leonard case after a nickname for GDMA's principal officer and Singapore businessman Leonard Glenn Francis. It is alleged that Fat Leonard showered Navy officers with dinners, prostitutes, and cash bribes so they would look the other way as he swindled the Navy.
US-Turkish relations are being strained by the involvement of Kurdish factions in fighting Islamic State terrorists, AP reports. A Turkish official criticized the US for dealing with the political wing of the Kurdish People's Protection Units, which his country views as a terrorist group. Meanwhile this week, AP also reports, Libyan forces made progress by advancing on IS strongholds in that country.
Air Force Chief of Staff Gen. Mark Welsh says his branch of the service is overworked and undermanned, Air Force Times reports. Gen. Welsh says the Air Force needs 40,000 to 60,000 more airmen. Bidness Etc. reports that Gen. Welsh has announced the possibility of adding Lockheed Martin's F-22 aircraft to the Air Force's fleet.
Stars & Stripes has published an exclusive Q&A with President Obama, where he acknowledges the recent loss of three service members in Iraq as "combat deaths." That is apparently something officials have been reluctant to do. For the entire interview with the president, click here.
Defense News this week has its own exclusive interview with the new Secretary of the Army. Eric Fanning discusses his recent confirmation, his goals as Secretary of the Army, and being the first openly gay Army secretary.
Andrew Brennan of Pennsylvania is leading the effort to make sure service people who have died in the war on terror have their own memorial on the National Mall, just like the fallen soldiers of World War II, Korean War and Vietnam War, The Pittsburgh Post Gazette reports. But there is one catch. He need to persuade Congress to overturn the 1986 Commemorative Works Act, which requires a war to be over for 10 years before a memorial can be built.
Memorial Day is a time to honor the men and women who made the ultimate sacrifice for the US. Professional athletes have been part of that mix since World War I. MSN Sports takes a look at some of the more notable athletes who lost their lives in service.
Contracts:
Computer Integration & Programming Solutions Corp., Bethesda, MD (N00173-16-D-2003); Fulcrum, Centreville, VA (N00173-16-D-2004); IOMAXIS, Fredericksburg, VA (N00173-16-D-2005); Praxis, Alexandria, VA (N00173-16-D-2007); Zurka Interactive, Vienna, VA (N00173-16-D-2008); Exelis, Herndon, VA (N00173-16-D-2009); Parsons, Pasadena, CA (N00173-16-D-2011); and Sotera Defense Solutions, Herndon, VA (N00173-16-D-2012), are each being awarded a firm-fixed-price, level-of-effort, cost-plus-fixed-fee, indefinite-delivery/indefinite-quantity, multiple award contract. The maximum dollar value for all eight contracts combined is $245,000,000.  The contracts are for engineering and technical support to the Naval Research Laboratory Information Technology Division. These eight contractors may compete for task orders under the terms and conditions of the awarded contracts, therefore, work will be performed at the Naval Research Laboratory, Washington, DC (90 percent), and at these possible contractor locations: Bethesda, MD; Centreville, VA; Fredericksburg, VA; Alexandria, VA; Vienna, VA; Herndon, VA; or Pasadena, CA (10 percent). Work is expected to be completed May 22, 2021. Task orders will be funded with fiscal 2016 working capital funds (Navy), and no funds will be expiring at end of current fiscal year. This contract was competitively procured under request for proposal N00173-14-R-RV01, with 12 offers received. The Naval Research Laboratory, Washington, DC, is the contracting activity.