Poinsett Awarded for Faculty Excellence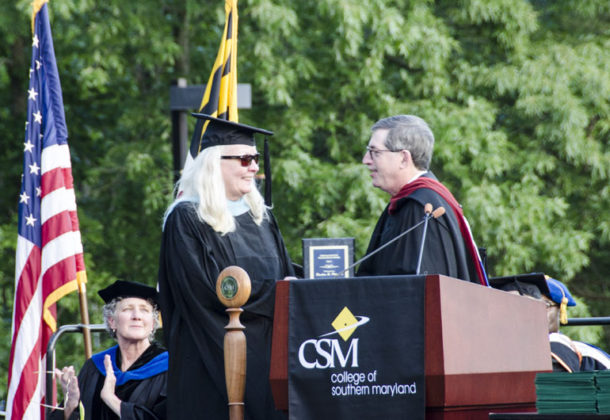 CSM professor Sandy Poinsett received the Faculty Excellence Award at the college's 58th spring commencement May 18, 2017. In this photo, she is congratulated by Faculty Senate President Mike Green.
When College of Southern Maryland math professor Sandy Poinsett took her first math class at Indiana University in the late 1960s, she had one female classmate among more than 200 students in the course.
"The two of us sat in the front row," Ms. Poinsett said, smiling at the memory. "We were motivated. We were both very focused. And I think we ended up getting some of the best grades."
Profressor Poinsett told this story and others to demonstrate the inequity she has experienced in math education throughout her career. At CSM, she has worked hard to change that inequity for women. However, her passion for teaching math does not end with women's inclusion. Her teaching style in the classroom is designed to help all students find math to be an approachable subject.
"I want to make math great again," she said.
For these efforts, Ms. Poinsett was honored this year with the CSM Faculty Excellence Award, an annual honor given to one member of the college's permanent faculty. Professor Poinsett's award was announced at the college's spring commencement ceremony May 18, 2017, at the La Plata Campus.
"It's a big shock," she said, adding that winning the honor might be the thing about which she is most proud from her career, which spans 20 years teaching math at CSM, 40 years as a private math tutor and three years as a high school math teacher.
Profressor Poinsett grew up in Fort Wayne, Indiana, at a time when girls' futures seemed limited. Their career choices were basically teacher, nurse, mom, or secretary, she said.
"I had an extremely high math SAT score, and no one said to me, 'Hey, why don't you consider engineering or architecture?'" As a first-generation college student, her world was narrow at the time. Her ideas about what careers she could pursue were already limited, and the subtle and not-so-subtle messages communicated by others about women in math-related fields were not encouraging.
When Ms. Poinsett began teaching at CSM in 1997 and especially when she started teaching calculus in 2002, she could see that the world hadn't changed a whole lot from her years back at Indiana University.
"I was still only seeing one girl out of 30 students," she said.
This is when profressor Poinsett became an advocate. "My goal was just to make sure young women were aware of the opportunities available if they were good at math."
Professor Tom Seremet, a longtime colleague at CSM, says Ms. Poinsett has been successful in this. "She has changed the playing field," he said. "What she's done is help give young women the confidence and motivation to take math."
In 2004, Ms. Poinsett received grant funding from the Association of Women in Mathematics to start, with the help of Associate Professor Donna Sperry, the Women + Math program at CSM. Now, with help from both professor Dr. Stephanie McCaslin and adjunct faculty Kim Lukas, the program has grown into "Women + STEM." With continued support from the CSM Foundation, the program has an annual conference where women in math-related and similar fields like engineering talk to young women about career paths and the opportunities available to them. It's all about exposure to what is possible and inspiration for the younger women. For instance, this year the keynote speaker was Lt. Rebecca Shaw, a test pilot for the US Navy.
Mr. Seremet credits this and Ms. Poinsett's related efforts as the catalyst for a remarkable change in higher level math classes at CSM, he said. "In the past, it was pretty much all boys in the advanced math classes. Now there's as many girls," Mr. Seremet said. "And with confidence and energy, those girls are achieving every bit as much as the boys." This year, for instance, CSM's outstanding math and engineering awards were both given to women.
Ms. Poinsett agrees that change is happening, albeit not as quickly as it should. She sees the more even ratios in her classes in recent years, she said, but notes that, even still, in her most advanced classes like Calculus III, women comprise only about 20 percent of the students.
Ms. Poinsett says her expectations are high for students. But her own background as a first-generation college student who had to work her way through school assures she is sensitive to the difficulties her students face. "By being responsive to my students needs along with giving them a safe environment to learn, I feel that they can be empowered to reach for new challenges and accomplish their goals," she said.
Her classes start with an activity that allows the students to start talking and getting to know each other. She wants her classrooms to be collaborative, a place where students work together with plenty of discussion. "I am not a lecturer," Ms. Poinsett said.
She makes a point to learn all her students' names. "I try to develop a relationship with them. So, later, I can maybe say something positive or motivating to them."
Ms. Poinsett uses several techniques to help her students be successful. Students are assigned concept quizzes, which are pre-lecture quizzes on material that will be discussed in class. This way, students have a chance to familiarize themselves with new vocabulary and concepts before hearing about them in class.
Ms. Poinsett has developed a technique to help students who failed or received a D on the first test. These students write a reflection paper about how they prepared for the test, are allowed to make corrections and then must discuss them in her office.
Finally, Ms. Poinsett assesses students while they work on examples. She walks around the classroom checking answers and giving clues about where they went wrong if an answer is incorrect. She says this technique gives her a sense of who is understanding and who is struggling, plus it gives students immediate feedback.
When the Faculty Excellence Award was announced, Ms. Seremet was quoted as saying, "If you monitor the many things Sandy does here at CSM there is a common theme. She promotes the welfare of the individual student first and then takes that base and connects it to the academic achievement of the student. She is a very caring professor."
Ms. Poinsett lives in Hughesville with her husband, Rod, whom she met at Indiana University in that first Calculus I class.
CSM Department Chair Andrea Ronaldi said multiple faculty excellence awards have been awarded to CSM math, physics and engineering faculty, which is a testament to the strength of that division.
"On behalf of the math, physics and engineering division, congratulations to professor Sandra Poinsett for the 2016-2017 Faculty Excellence Award. Sandy joins past recipients of the Faculty Excellence Award for this division — Dave Reichard in 1989, William Emley in 1992, Steve Hundert in 2004, Tom Seremet in 2009, Sue Strickland in 2011, and John Warren in 2014," Ms. Ronaldi said. "The excellence of our faculty is one of many reasons why CSM is a great choice for academic pursuits. Congratulations to Sandy on this award and thank you for your efforts in and out of the classroom."
For information on CSM's Faculty Excellence Awards and previous awardees, visit CSM's website.
For information about STEM at CSM, visit CSM's dedicated STEM website.
For more about the College of Southern Maryland, visit its Leader member page.